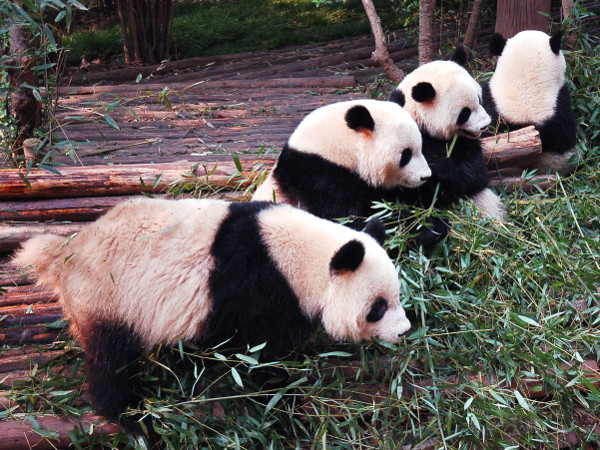 BERLIN – Leave it to the Germans to find a new use for porn — in this case, one that doesn't even involve human viewers.
Well, to be fair, the Germans got this porn idea from a Chinese fellow, so it's not fair to pin this entirely on our funky friends in Deutschland. Be that as it may, in an effort to tackle the persistent problem of pandas being unwilling to mate in captivity, the Berlin Zoo has taken to showing their pandas videos of other pandas doing the nasty, hoping the panda porn will inspire the reluctant bears to do something in the woods other than take a shit.
Yaun Bo, whom I've definitively confirmed is a panda breeder and not an actor who plays villains in martial arts films, is the one who recommended the Berlin Zoo try the "panda pornos" technique, an approach Chinese panda breeders have been using for several years now.
In 2013, a spokesperson for a Chinese panda-breeding program explained the breeding dilemma and porn's role in addressing it.
"Every time Yongyong tried to mount her, Ke Lin fought him off and we were worried she was going to miss her three-day breeding cycle," the spokesperson said. "So, we played them the film and she took great interest in it. After that, there was no stopping her and they mated successfully."
There was "no stopping her," eh? Clearly, Ke Lin instantly became one of the growing number of women addicted to porn.
This raises all sorts of questions for me, some of which I'm pretty sure I'd have even if I hadn't just spent 90 minutes sniffing model glue.
Have the Germans and their Chinese advisors thought this panda porn thing all the way through? Aren't they putting poor Yongyong, the Berlin Zoo's Jiao Qing and other captive male pandas at risk of suffering porn-induced erectile dysfunction? Has anybody discussed this with the pandas' pastors? Can those pastors be trusted to dispense good advice on the subject?
At the very least, I think the Berlin Zoo can count on Jiao Qing becoming extremely sexist towards his (human) female handlers and grossly inattentive to Meng Meng's sexual needs. Of course, the zookeepers will also need to keep an eye on Jiao Qing's CT scans, lest porn shrink his brain irreversibly before they get the chance to ween him off the stuff.
Most alarming in all of this is the Chinese breeding center's unidentified spokesperson seems to think porn is already something captive pandas can't live without — or can't fuck without, at least.
"In the wild," he observed, "Ke Lin would have seen lots of other pandas mating but in captivity, it's no wonder she needed help."
This raises another question: Does panda porn offer a realistic depiction of sex, or will it merely serve as pressure for female pandas like Ke Lin and Meng Meng to perform degrading sexual acts in which they would never otherwise engage?
Also troubling is the notion of Meng Meng developing self-image problems, possibly feeling as though her own panda body isn't "sexy" enough, once she gets an extended look at the surgically-enhanced bodies of panda porn performers.
Even if it's true panda porn encourages sexually reluctant bears to mate, what about the other things it might spur them to do? Does the Berlin Zoo really want to host panda gangbangs? Which poor member of the maintenance crew will be forced to clean up the enclosure following a panda bukkake?
Before this disturbing trend hops the Atlantic, before the Bronx Zoo devolves into the Kings Highway Cinema of captive wildlife, the U.S. Congress and state legislatures across the country need to put in place strict and detailed regulations to prevent a panda-porn-pandemic from sweeping the nation and exacerbating our already pressing, porn-driven public health crisis.
This must be done not just for the likes of Jiao Qing, Meng Meng and Ke Lin, but for the sake of all the children, tourists and wandering drunken New Yorkers who come to gawk at these otherwise noble creatures in their not-so-natural habitats.
It's bad enough we already expose our children to masturbating, feces-flinging chimpanzees and watersports-loving lions. Do we really need to subject them to porn-addicted, sexist, impotent, shrunken-brained pandas, as well?
Image © Feng Hui.