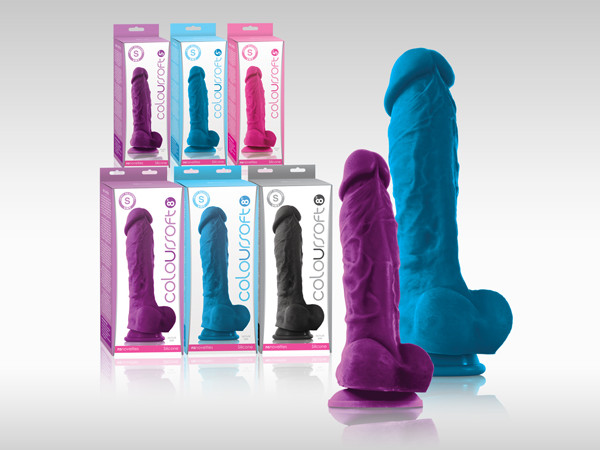 CHATSWORTH, Calif. – NS Novelties has launched ColourSoft Pleasures, a new collection of vibrant, realistically molded dildos made from the softest medical-grade silicone available to provide an elevated level of comfort.
"ColourSoft is a new and softer version of our best-selling Colours line," NS Novelties' Lavi Yedid said. "The innovation behind the silicone allows for a more delicate experience without losing the firmness and features consumers have come to love about the Colours Collection."
ColourSoft's texture is complimented by its realistic craftsmanship, creating a natural feel from its cushy testicle base to its veiny shaft and bulbous head. Available in assorted sizes and colors including pink, purple, black and blue, ColourSoft dildos are non-porous for easy, worry-free cleaning and include a powerful suction cup base for hands-free fun or harness play.
The Colours Pleasures Collection launched in 2013 to critical acclaim and big sales Yedid said. The line has expanded to include such colorfully innovative additions as Colours 2X Dual Density, Colours Thick, Colours Thin and the Colours Pride Edition. YourTango.com called the Pride Edition items a "great addition to any sex toy collection" and "a touching gesture of support" for the LGBTQ community. SluttyGirlProblems.com called the Pride collection "total statement piece[s] to show your pride in the bedroom."
NS Novelties received the 2017 AVN Award for Best Pleasure Products Manufacturer – Large.
For more information, visit NSNovelties.com.