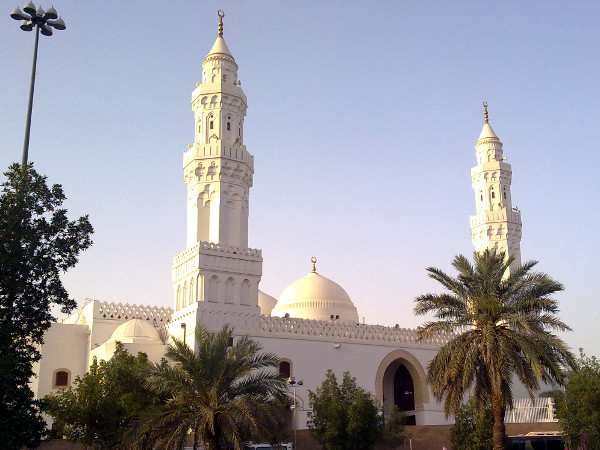 RIYADH, Saudi Arabia – Let's say you woke up one morning and found your Twitter feed lit up with outrage over the airing of gay porn on a popular television show. What sort of sex acts would you assume the offending program had aired?
Playing the odds, would you assume it was anal sex between two or more men? An erroneous airing of a vigorous glory hole encounter? Maybe just shaky smartphone footage of a backseat handjob that made its way into the broadcast by sabotage on the part of a disgruntled video editor?
How about two fully-clothed men on a reality TV show dancing, and along the way one of them pointing a few wayward hip thrusts toward the man in front of him in an ersatz two-man conga line. Does that sound like "gay porn" to you?
Welcome to the Kingdom of Saudi Arabia, wherein a man vaguely thrusting his hips in the general direction of another man isn't just a scandal. It's cause for full-blown moral panic and immediate calls for government censorship.
"A dirty scene and broadcast on a highly viewed channel," wrote one aghast Twitter user. "The Ministry of Information must immediately stop the channel."
Other users joined in the call for the government to ban the "dirty" channel, Bedaya, saying the network "insults religion." Naturally, many people demanded swift, harsh punishment for the "dirty dancer" himself, as well.
The incident took place on a show called Increase Your Credit, a competition-style reality show Bedaya says is designed to promote fiscal responsibility and to prepare young viewers for entering the job market.
In the U.S., I think it safe to say such a depiction not only wouldn't start a firestorm on Twitter, but likely would pass without any comment at all.
Even if such a scene did generate a reaction from socially conservative American viewers, I doubt either the television station or producers of the show would offer a comment in response. If they did comment, I imagine they would rightly note there's nothing obscene about two men dancing (not under American law, at least), cite First Amendment protection for their freedom of expression and maybe tell their Decency Crusader critics to get bent.
Bedaya isn't about to do any of those things, of course, because being a TV station in Saudi Arabia is a far cry from being NBC. So, what did Bedaya do? The day after the furor, the station ran a live Quran reading broadcast from a mosque, followed by a cooking show.
Prior restraint achieved, mission accomplished, morally-suspect TV station quite effectively chastised.
Sadder still is the groveling in which Bedaya felt compelled to engage — kowtowing made all the more depressing by virtue of its manifest necessity, considering the geographic context of this whole kerfuffle.
"The act that took place by one of our contestants, an act which is not accepted by any logic, any religion, or moral values, was apologized for by the contestant," Bedaya tweeted. "The act was unintended by him, and he has repented to God."
Naturally, the contestant has been disqualified, because his unforgivable moment of revelry does "not represent the channel or its goals to spread values and morals."
As I read about Bedaya and its broadcast of forbidden "gay porn" hip-thrusting, I couldn't help thinking about things like California's recently voted-down Proposition 60, Utah's "porn as public health hazard" resolution, South Carolina's effort to require manufacturers of computerized devices pre-install porn filters on their products and various other anti-porn efforts in progress around the U.S.
While it's certainly appropriate and understandable for American porn producers (and porn producers operating in countries with similar measures of free speech protection) to be wary of proposed regulations and to push back against the rhetoric of critics, we should also occasionally take a moment to thank our lucky stars we live and work where we do.
Whatever may come of the various efforts to regulate and restrict the adult industry in the U.S., history has made one thing abundantly clear: Imposing strict regulations on sexually explicit materials is extremely difficult, not only because of the structure of American laws and the nature of American courts, but due to the nature of American citizens, as well.
Imagine if I were to go on Twitter tonight and raise hell about excessive visibility of side-boob on the red carpet at some awards show, or demand the FCC shut down NBC over an elated pro football player twerking in the end zone after a touchdown. Does anybody think NBC would apologize, the NFL team involved would terminate the kid's contract and the next day, NBC affiliates across the country would run nothing but a televangelist reading from Leviticus? Hell no. I'd be shouted down by the rest of Twitter in a New York minute.
What protects American producers is more immediate than the words found in the Constitution, broader and deeper than any code of laws. We're also protected by social norms and standards that have shifted in a decidedly libertine direction over the past several decades, a change from which the porn industry has greatly benefited.
As public perception concerning the propriety of sexual depictions (and discussions) has shifted over the years, porn has emerged from its roots as a patently illegal, black market product to become a bona fide sector of the greater entertainment industry.
True, many American states still consider porn production to be a form of prostitution — but you might also notice that whenever a state tries to prosecute a pornographer for pandering, the legal pushback ends up making that state merely another in which it's clearly legal to produce porn. Don't take my word for it; ask Kelly Ayote, the former New Hampshire Attorney General (and now former U.S. Senator representing the state, as well) who was in office when the New Hampshire's Supreme Court made it clear the prosecution of Robert Theriault on prostitution charges wasn't going to fly with them.
Yes, we American pornographers must remain vigilant in defending our First Amendment rights against those who say free speech doesn't apply to us, and of course we should push back against the anti-porn propaganda offered by our critics.
Any time you start feeling like the industry is getting the short end of the stick from the U.S. government or the public, however, please take a moment to be thankful it's not one of these sticks, being used to round you up for mandatory evening prayers.
Image: Mosque of the two Qiblas © Aiman titi.