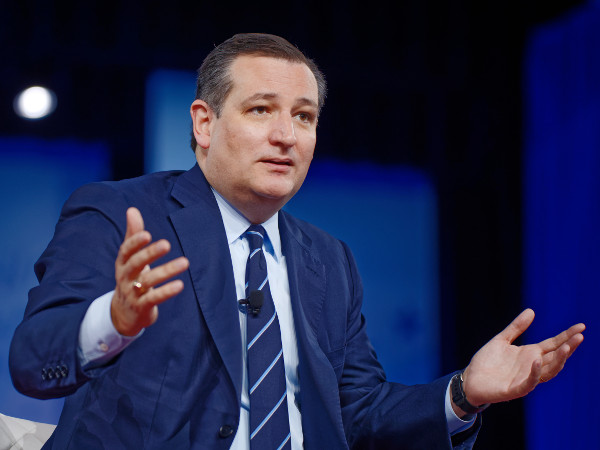 WASHINGTON – Overnight Monday, the Twitter account belonging to Ted Cruz, the junior Republican senator from Texas, "liked" a 2-minute, 20-second hardcore pornographic video clip posted by @SexuallPosts. It's not terribly difficult to infer Sexuall Posts exists solely to post porn videos.
The Twitterverse went wild, sending the hashtag #TedCruzScandal to the top of Twitter's trending list.
"Cruzing the web" will forever mean jacking it.

Forever.#TedCruzScandal

— Magdalen Rose (@theMagdalenRose) September 12, 2017
Sean Spicer: "I've become the biggest laughing stock of the political system…"
Ted Cruz: "Hold my beer"#TedCruzScandal #TedCruz

— T(eam Canada) (@BigNasty604) September 12, 2017
As a former Evangelical, I can totally attest to this. Anyone remember Josh Duggar? Yeah. They're everywhere, folks. #TedCruzScandal https://t.co/hITyqSpK14

— Beth KACM ❄ (@elizebethtown) September 12, 2017
"Can't the guy just hire some hookers and piss all over them like a normal person?"-@realDonaldTrump on #TedCruzScandal

— Donald J. Trump (@BiglyPrez) September 12, 2017
What a difference a year makes. #TedCruzScandal pic.twitter.com/ITr6HQG3vg

— Noah Smith (@smithnoah) September 12, 2017
Even Cruz's college roommate got into the act:
Now imagine Ted Cruz is doing this four feet below you in the bottom bunk bed.

Yes, my misery very much appreciates your company.

— Craig Mazin (@clmazin) September 12, 2017
Of course, Cruz's team couldn't delete the "mistake" quickly enough — or point the finger at some hapless, nameless intern whose only real error was joining the senator's team in the first place.
"It was a staffing issue, and it was inadvertent," Cruz told reporters. "It was a mistake. It was not a deliberate action."
His denial started a new wave of commentary, sending the hashtag zooming right back to the top of the trending list.
Ted Cruz is blaming his staff for the #TedCruzScandal

Not sure whether he is referring to his team members or just his member.

— Misbah Rehman (@MisbahRehman88) September 12, 2017
Ted Cruz trying to figure out how he can blame Hillary's emails #TedCruzScandal pic.twitter.com/SGGbPxuwx4

— Lora (@LoraFarid) September 12, 2017
My favorite headline of the day @Mediaite #TedCruzScandal pic.twitter.com/PRA6eNZviG

— Brett Maurer (@brettamaurer) September 12, 2017
It's truly inspiring to see Twitter put aside our petty differences, turn in unison and laugh at Ted Cruz.

— Luke Benson (@Mr_LukeBenson) September 12, 2017
Yeah, this one's going to take a while to die down.
Cruz did not divulge whether he'll fire the staffer, limit access to his Twitter account or seek Divine intervention to make the embarrassing debacle disappear.
The senator tried to make light of the situation, telling reporters if he'd realized getting the internet's attention was so easy, he'd have liked a porn tweet during his unsuccessful primary bid for the Republican presidential nomination. But for a sanctimonious, conservative lawmaker who takes great pains to display his self-serving brand of Christian piety at every opportunity, any association with porn — even a minor, "accidental" one — must burn like hell … especially since Cruz is up for election to a second term in 2018.
Ironically, in 2012 Politico praised Cruz as a sterling example of a social-media-savvy politician. The publication called him "Exhibit A of how to effectively use social media to grow a movement."
Well played, Ted.
For its part, Sexuall Posts twisted the knife by updating its profile with a suggestion folks "Follow for the Same Porn @TedCruz Watches."
Image of Ted Cruz © Michael Vadon.