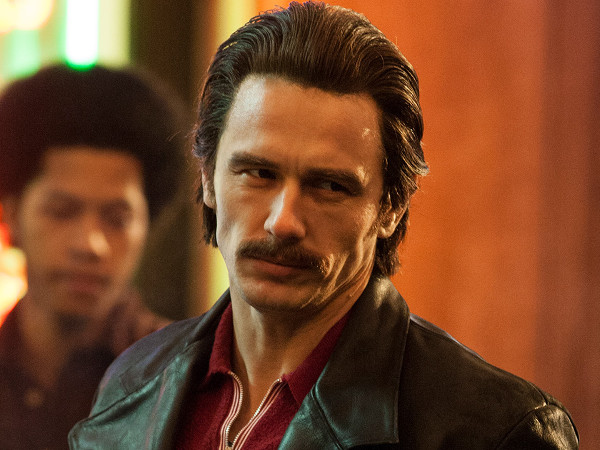 LOS ANGELES – Shortly before the debut of Kink, a documentary he produced about Kink.com and the people behind it, James Franco explained his impetus for producing the film. He said he was interested in "how we define ourselves as people, how we interact with each other, and what the dynamics of power in relationships are."
"Even though a lot of people might not engage in some of the activities that the people at Kink do, I think there's something about the dynamics at play that speak to something more universal," Franco said. "I think that sex and sexuality are topics of endless exploration."
Three years later, it appears Franco's endless exploration of those topics, at least in an explicit, pornographic sense, have already come to an end.
"I don't know if you believe me or not. I watched it in my day. I certainly watched it as research for this show. [But] I don't watch porn," Franco told Us Weekly at the premier of The Deuce, the new HBO show about the early days of the porn industry in New York City, on which Franco plays twin brothers, Vincent and Frankie Martino.
"I have no moralistic stand against it by any means, but in unregulated capitalism, I think that's one of the main points of our show," Franco added. "There's always these people, a select few who sort of come out on top and the rest are just thrown under the bus."
Ironically (or perhaps appropriately), it was another porn-focused documentary that led to Franco's personal embargo on porn consumption.
"My friend Rashida Jones came out with a documentary called Hot Girls Wanted a couple of years ago, and I think the main point I took away from that film is that these young women are not protected," Franco explained. "They have (no) union. It's just completely unregulated. They go out to Florida and they're just sort of ground up in a matter of months and just discarded, and nobody is there to protect them. There's no laws to protect them, and that is very much the case in our show as well."
It all sounds reasonable enough, but given Franco produced the Kink documentary after receiving a tour of the company and watching one of the studio's films in production, I feel compelled to ask: Were there laws and regulations protecting the performers there? If not, did the lack of those protections lead to the wanton mistreatment of the performers he watched at work?
If so, Franco did a good job of concealing his concerns in promoting and marketing his documentary when he described a behind-the-camera scene quite at odds with the notion of talent being "ground up" and summarily tossed out.
"It was very interesting, because the dynamic in front of the camera was very different from what was happening off camera," Franco said in 2014 of his tour of the Kink facilities. "It was a BDSM scene of a girl in a cage, and very intense, but off-screen it was surprisingly warm and cooperative, with everyone as a willing participant. I thought I'd like to explore this, and I'm sure a lot of other people would, too."
Now, just three years later, Franco's more recent comments about porn leave us with few possible explanations for his newfound reticence to watch the stuff.
Maybe Franco is convinced Kink represents a lonely, responsible exception to the exploitative rule of the porn industry but isn't turned on enough by their content to watch it. Maybe he thinks Kink pulled the wool over his eyes and has come to believe the warmth and cooperation he saw was fabricated for his benefit. Or maybe he just thinks appearing to be too porn-friendly would be a bad look for a guy now starring in a TV show that paints a significantly less-than-idyllic portrait of the modern porn industry's roots.
Franco said he isn't taking a "moralistic stand" against porn in one breath, but decried an utter lack of regulation and protection for performers (the female ones, at least) in the next. He's not entirely wrong, but his equivocation still deserves some exploration of the sort he once thought was an interesting aspect of the pornographic form.
Would Franco watch porn again if he knew it was produced under conditions better than those faced by the people depicted in Hot Girls Wanted? If so, he might be interested in watching some of the documentary content shot by his friend Rashida Jones since the release of her original documentary (and shot under the same brand name, no less).
Better yet, maybe he should try speaking to his friend, to see if she still thinks her original documentary was reflective of the broader adult industry or of self-produced content in which the performer, producer and director are one and the same.
Who knows? Franco might be surprised by her answer.
"Do you, personally, consume porn now?" the New York Times asked Jones in July.
"I do," Jones replied.
Yes, Jones complained (quite understandably) she "had a hard time finding the kind of porn I wanted," but despite her experience in making Hot Girls Wanted (and unlike Franco), it appears she hasn't entirely abandoned watching smut.
Beyond revealing she still watches porn, in the same interview Jones suggested women who decide to make their own porn may have more and truer freedom of expression than their counterparts in mainstream entertainment.
"There are women who have gone into the sex industry, they're just like, 'I'm going to make my own stuff,'" Jones said. "Whereas in Hollywood, there's so much development and bloat and numbers and budgets that stand in the way of things. There's a more direct relationship between the filmmaker and the consumer in porn."
None of this is to say Franco is "wrong" to have stopped watching porn. The guy can watch (or not watch) whatever he pleases, obviously. All I'm saying is, if his reason for stopping is an epiphany based on the work of Rashida Jones, it's worth considering whether Jones's full take on porn is more nuanced than the one he derived from watching that work.
Image: James Franco as Frankie Martino in HBO's The Deuce.