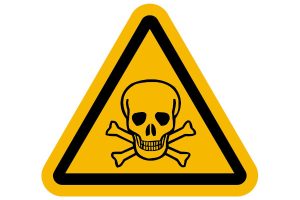 SALT LAKE CITY – When I first heard about the bill making its way through the Utah legislature that would require warning labels to be affixed to porn, I was against it.
"THIS IS COMPELLED SPEECH AND THAT'S NOT CONSTITUTIONAL!" I thought, accidentally hitting my mental caps lock key.
The more I thought about it though, the more I began to think some things are simply more important than the First Amendment and freedom of expression – like making sure we do every ineffective, pointless, impact-free thing we can to protect people, especially very young people, from the many unfortunate side effects of being alive.
Let's face it, terrible ideas and bad influences are everywhere these days. If kids aren't being indoctrinated as human traffickers by hardcore porn, then they're being indoctrinated as wanton killers by gratuitously violent video games like Candy Crush Saga. (What did candy ever do to the people who created that hateful game, anyway?)
Hell, we can't even turn on our televisions without a shoe company telling us to "just do it," when the shoe company has no idea what's on our minds at that moment. That's just downright irresponsible! I mean, what if I'm thinking about killing and eating my neighbor at the time – something I often do, ever since watching Mindhunter on Netlflix – should I still "just do it"? (Seriously though, should I? My neighbor is a pretty suspicious character.)
You can probably see where I'm going with this: It's time to put government-mandated warning labels on any and all expression, activities, products and people that might lead us astray!
I'm sure some of you free speech purists, First Amendment extremists, civil liberties advocates and lawyers who think such things would represent egregious government overreach into the private affairs of American citizens – but you only think that because you're vile, morally bankrupt heathens who hate children.
Since I know proposals like this always get picked apart if they lack specifics, or torn apart by nitpickers if there are too many details, I'm going to aim for the sweet spot and offer precisely three, or possibly five, or perhaps as many as nine specific suggestions. (We'll just have to see, because I'm on deadline here, people.)
First, any time a politician appears on television, or via an online video stream, there should be a warning that displays for at least 30 seconds that says something like: "Warning: The person to whom you are about to listen is outrageously full of shit and listening to her/him/them will almost certainly make you dumber, more easily irritated and far more likely to engage in inane, ill-informed political debates with your friends and family." At in-person appearances, this warning can be displayed on monitors at the event, or possibly carved into the forehead of the speaker(s) in question.
Second, no Bible, Koran, Book of Mormon, or any other book of scripture shall be made available to the public unless it comes in a brown paper wrapper with the following warning affixed to it: "It's fine for you to believe any, or even all, of the bizarre shit you read in this book, but for fuck's sake don't come ringing Ben Suroeste's doorbell seeking to covert him to your faith, because he's busy doing something far more important right now, like sleeping, making a sandwich or masturbating while huffing paint thinner off an old gym sock."
Third, from now on, all new films in the Fast and Furious franchise should be preceded by an on-screen warning that says: "Seriously Dudes: This is the same fucking movie you've seen six times already, just with different cars."
Fourth, if you have an older family member who drinks too much at family gatherings and might say something deeply inappropriate around children, the host of the gathering should be required to hang a sign on any such children that reads "Warning: this child is too young to be at this gathering; please immediately take it to Gymboree, or the zoo, or some more age-appropriate shit like that," then point the child in question back in the direction of its parents.
Seventh(?), all American football teams, be they professional, college or youth-league, shall be required to post a sign outside their practice facilities which reads: "Warning: Future sufferers of CTE inside, approach with the same sort of caution you would if Aaron Hernandez was still alive and serving as one of our assistant coaches."
Clearly, I could go on like this all day and not even come close to addressing all the various, everyday things about which American citizens should be warned – not just for the protection of their children, chastity and cranial capacity, but for the collective good of people all around the globe, especially in places where they don't have warning labels of their own on which they can rely.
Crap! It only now occurs to me that this post really should have been preceded by a warning label of its own. Oh well, better late than never, right?
Warning: Reading the preceding post has given you an unpronounceable disease. (To find out which one, ask your doctor – and while you're at it, be sure to tell her if you've recently visited any areas where "certain fungal infections are common.")
Warning stock photo by Studio Souldesign.eu from FreeImages.com