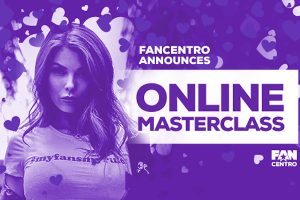 FanCentro has announced the release of an online masterclass which offers tips on increasing revenue, hosted by MelRose, one of the top models on the platform. According to FanCentro, the masterclass "reveals how FanCentro influencers can use the FanCentro Valentine's promotion to grow their fanbase and their income."
The FanCentro Valentine's Day promotion runs through February 20 and allows fans the opportunity to subscribe to their favorite influencers' FanCentro Feeds or Premium Snapchat for a discounted price of $14 each.
Fans who subscribe via the promotion also will receive a free thank you video via direct message and the influencers who opt-in to the promo will receive 90% of all sales made via DM during the promotion.
The masterclass, which is broken up into five parts, has been posted daily on the FanCentro blog in the lead up to Valentine's Day. In each video, MelRose teaches influencers how to use FanCentro features such as the Feed and newly released DMs, as well as tips, tricks, and strategies on how to increase revenue and grow a fanbase.
For example, in summarizing one of the key tips, FanCentro noted that MelRose "talked a lot about the importance of DM's and it's one of the best habits to develop."
"Introduce your fans to DMs with a message. Send them a small piece of free content. (We all love free samples, right?) If they have a taste of what you're offering, they're much more likely to purchase from you down the road," the company added in its blog post.
You can find links to all the masterclasses on the FanCentro blog by visiting the FanCentro blog.