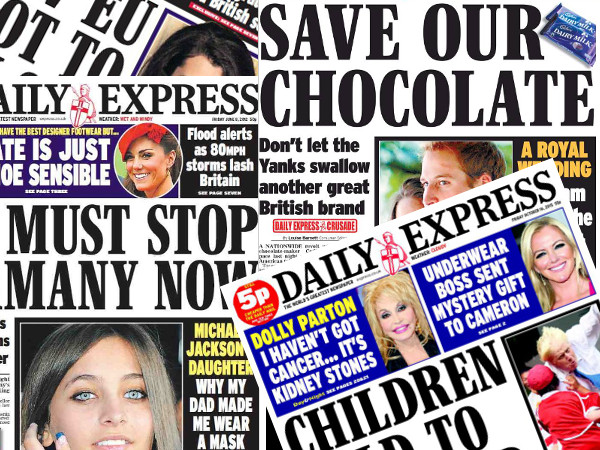 LONDON – With the implementation of Britain's Digital Economy Act 2017 looming (at some still-uncertain point in the future), privacy advocates and IT experts once again are warning the public about the potential for hackers and blackmailers to obtain the same information used to confirm their age and identity for porn site access.
"A database of U.K. citizens' porn habits will be very valuable to hackers who could use it to blackmail people," said Jim Killock, the Executive Director of the Open Rights Group (ORG). "As we saw with the Ashley Madison hack, if this information was hacked and leaked, there could be serious consequences."
While Killock's concern is valid, I couldn't help chuckling at the context in which his comments were published. Throughout the page on which the Daily Express displayed the article, links to titillating videos and slide shows are sprinkled around like tasty little flakes of delectable irony.
"Rachel Riley reveals she shares her name with a porn star," announced the title of a video embedded in the page. Just above the video, a slide show link promised "Alexandra Daddario's X-RATED pictures."
Not to be outdone, the righthand sidebar of the page offers link text like "Naomi Watts strips completely naked for racy romp with Kyle McLachlan in Twin Peaks" and "Emily Ratajkowski goes TOPLESS as she flaunts peachy posterior in racy thong bikini."
Left unmentioned is whether Emily's racy thong has any connection to the racy romp in which McLachlan and Watts engaged. Either way, the clickbait text lower down the sidebar takes a slightly different tack, eschewing the use of "racy" and opting instead for the mysterious ellipsis.
"Kelly Brook bares all as she strips completely…" the link read. Oh, what might she have stripped so completely? The finish off her old coffee table? Some man of his dignity and self-worth? I guess I'll have to click through to find out, because judging by the thumbnail accompanying the text, the only things that can be eliminated from the "stripping" possibilities appear to be a bowler hat and a fistful of flowers.
Forget about the porn I've been watching. At this point, I'm becoming more worried about hackers revealing I read the Daily Express.
"Ordinary people could be blackmailed for doing something that is perfectly legal," Killock observed.
My thoughts exactly, Jim!
"Hackers could also target celebrities and politicians for blackmail purposes or to sell the information on to the media," he added.
Well, there goes my idea about running for Congress after starring in a reality TV show. The last thing I need is some hacker going to the press to crow about me clicking a link that reads "Rita Ora struggles with ample assets as she goes TOPLESS in tiny red thong bikini."
Say… Rita Ora didn't happen to borrow that thong bikini from Emily Ratajkowski, did she? If so, I'm starting to wonder if the top is defective, seeing as how every woman who puts it on ends up going TOPLESS.
"ORG is worried that people's privacy and security could be at risk," Killock said.
You and me both, brother.
"Some people have suggested credit card verification, but that carries a big risk that fraudsters will set up fake porn sites to scam people, who may be too embarrassed to report it to their bank or the police," Killock added.
Even worse? Unlike porn sites, the Daily Express won't be required to comply with the Digital Economy Act 2017, so there's nothing to protect the children (or me) from accidentally viewing traumatizing content when terrible but very important things must be reported about in a frank and unflinching manner, like "Uma Thurman's daughter Maya flashes EVERYTHING as she makes Little Women acting debut."
Poor Maya. She really should have borrowed that well-traveled tiny red thong bikini. If she had, instead of flashing EVERYTHING, she would have been merely TOPLESS.
Only time will tell how much of a disaster the Digital Economy Act will prove to be for the privacy and dignity of British porn-surfers. In the meantime, if they want to sniff out embarrassing and potentially blackmail-worthy information about their countrymen, hackers will just have to settle for browsing the pages of the Daily Express.
Hell, while they're at it, they might even run across some good compromising info about Americans, too — particularly ones who go around wearing JAW-DROPPINGLY busty low-cut tops!