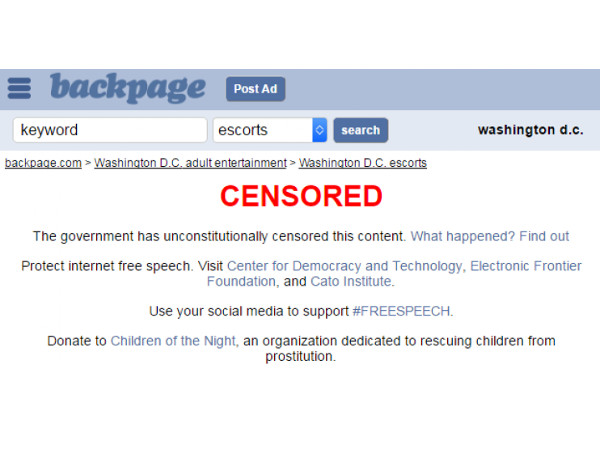 WASHINGTON, D.C. – International classified advertising site Backpage, whose owners are facing criminal charges in at least two states, shuttered its adult-services ads sections on Monday after a scathing congressional report accused the company of knowingly accepting advertising from child sexual predators, prostitutes and pimps.
On the same day, the U.S. Supreme Court declined to revive a lawsuit brought against the advertising giant by three women who claim Backpage ads assisted their abusers in selling them into sexual slavery. The high court let stand an appellate court's 2016 ruling that a "safe-harbor" provision in the Communications Decency Act shields Backpage from liability when advertisers break the law.
Published late Monday, the congressional report, delivered by the bipartisan Senate Investigations Subcommittee, pulled no punches in its assessment of Backpage's business model.
"Backpage knows that it facilitates prostitution and child sex trafficking," the report stated.
The committee accused Backpage of "knowingly conceal[ing] evidence of criminality by systematically editing its adult ads" for as much as a decade. According to the report, Backpage moderators were instructed to edit ads "to conceal the true nature of the underlying transaction" by removing terms including "fresh," "innocent," "little girl," "lolita," "rape," "school girl," "teen" and "young."
In some cases, the report noted, Backpage failed to act swiftly when made aware of potential underage victims, "preferring in some cases to interpret these complaints as the tactics of a competing escort."
Backpage responded to the report by lambasting the U.S. government for what it called unconstitutional meddling.
"As the direct result of unconstitutional government censorship, Backpage.com has removed its Adult content section from the highly popular classified website, effective immediately," noted a statement issued by the company on Monday. "For years, the legal system protecting freedom of speech prevailed, but new government tactics, including pressuring credit card companies to cease doing business with Backpage, have left the company with no other choice but to remove the content in the United States.
"As federal appeals court Judge Richard Posner has described, the goal is either to 'suffocate' Backpage out of existence or use the awesome powers of the government to force Backpage to follow in the footsteps of Craigslist and abandon its Adult advertising section," the statement continued. "Judge Posner described such tactics as 'a formula for permitting unauthorized, unregulated, foolproof, lawless government coercion.'"
Statement from James Larkin and Michael Lacey regarding Government Violations of the U.S. First Amendment https://t.co/a29fl8m0Pl

— backpage.com (@backpagecom) January 10, 2017
On pages formerly devoted to adult advertisements, Backpage on Monday inserted a banner decrying government censorship: "The government has unconstitutionally censored this content." The banner encouraged users to "protect internet free speech" and included links to the Center for Democracy and Technology, the Electronic Frontier Foundation, the Cato Institute and Children of the Night, an organization that rescues children from prostitution.
The company also tweeted a stream of links to media, organizations and prominent individuals backing Backpage's position that the government's actions amounted to an egregious violation of the First Amendment.
Backpage shuts down "Adult" ads section "as the direct result of unconstitutional government censorship" https://t.co/z8X72Q9YD4

— reason (@reason) January 10, 2017
Backpage Kills Adult Ads On The Same Day Supreme Court Backed Its Legal Protections, Due To Grandstanding Senators https://t.co/aosI9u6eUx

— techdirt (@techdirt) January 10, 2017
.@concurringopin on #Backpage and government censorship https://t.co/G650crkHtJ

— backpage.com (@backpagecom) January 10, 2017
Of Backpage's supporters, Children of the Night Founder and President Dr. Lois Lee was among the most vocal. Her argument in favor of Backpage's adult section hinged not on censorship, but on Backpage's benefit to law enforcement.
"It's a sad day for America's children victimized by prostitution," Lee said. "Backpage.com was a critical investigative tool depended on by America's vice detectives and agents in the field to locate and recover missing children and to arrest and successfully prosecute the pimps who prostitute children. The ability to search for and track potentially exploited children on a website and have the website bend over backwards to help and cooperate with police the way Backpage did was totally unique. It not only made law enforcement's job easier, it made them much more effective at rescuing kids and convicting pimps."
Statement from Dr. Lois Lee, Children of the Night, on Closure of Backpage Adult Category https://t.co/ix9N3ok27N

— backpage.com (@backpagecom) January 10, 2017
Support from the law enforcement community https://t.co/xN0hh3bMBS

— backpage.com (@backpagecom) January 10, 2017
Members of the Senate committee denied any intent to chill free speech.
"Backpage's response wasn't to deny what we said," committee menbers Sen. Rob Portman [R-Ohio] and Claire McCaskill [D-Mo.] told Reuters in a prepared statement. "It was to shut down their site. That's not 'censorship' — it's validation of our findings."
The Committee's report came amid a continuing legal spat between Backpage and the Senate Permanent Subcommittee on Investigations. The battle began in early 2015 when the PSI subpoenaed 41 categories of documents related to Backpage's business operation, including its user terms of service, editorial policies and revenue. Citing First Amendment concerns, Backpage refused to comply. In August 2016, a district court issued an order enforcing a subsequent, slightly modified subpoena. That decision remains on appeal.
The Chilling Effect of the Government's Subpar Subpoenas https://t.co/oWRLvc9hCl via @CatoInstitute #FREESPEECH

— backpage.com (@backpagecom) January 10, 2017
"This will not end the fight for online freedom of speech," the company's Monday statement said. "Backpage.com will continue to pursue its efforts in court to vindicate its First Amendment rights and those of other online platforms for third-party expression."