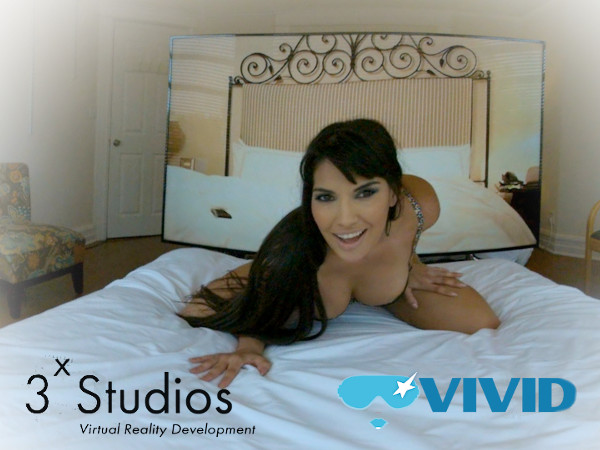 In the fall of 2016, virtual reality adult content was just beginning to be taken seriously in the adult entertainment industry. Some online studios investigated the technology's potential, but although they produced interesting content from a porn perspective, they struggled to kick their products into the rarified atmosphere of true VR experiences — the kind of immersive alternative realities gamers enjoyed.
It took everyone a bit by surprise when Vivid Entertainment announced that not only had the studio made a major investment in the technology, but also had a new VR platform ready to debut. VividVirtual.com emerged as the kind of playground porn lovers imagined might be possible, but until then hadn't seen.
The project leapt from the chute in October with The Kim Kardashian Superstar VR Experience, allowing viewers to experience a Kim Kardashian lookalike climbing out of the screen and joining them in their beds. Developed by 3X Studios, the project created international headlines.
"We wanted to make sure we had the right production partner and that the market was ready for the content," said Vivid co-chairman Bill Asher. "We released The Kim Kardashian Superstar Experience to showcase the work of 3X and to put our toes in the adult VR marketplace. Now we have more videos and are continuing to add more each month."
For the guys at 3X, making headlines is just another day at the office. Co-founders Adam Block and Daniel Dilallo are old hands at creating immersive experiences: The two game developers previously worked for studios including Activision and Sony. Among their credits are Transformers, Guitar Hero, and Spiderman.
Block and Dilallo "bring an interesting perspective with all their knowledge of the tech world from their vast online gaming experience," Asher said. "They have the expertise and ability to create some of the best-looking VR content in the marketplace, but what they didn't have was the adult entertainment experience. That is why it was a perfect marriage to take their VR technology expertise and match it with our adult industry guidance."
Even with two powerhouses working together, the project was not without its challenges, Asher admitted.
"The biggest surprise was finding out the majority of the early adopters in the VR world were the online video game fans, who are not always the same audience that you find for adult membership sites," he said. "But with the lower price now for VR gear, so low that even at the last AVN conference they were giving the headsets away for free to the fans, the audience has broadened and makes this a product that has the strong potential to grow nicely."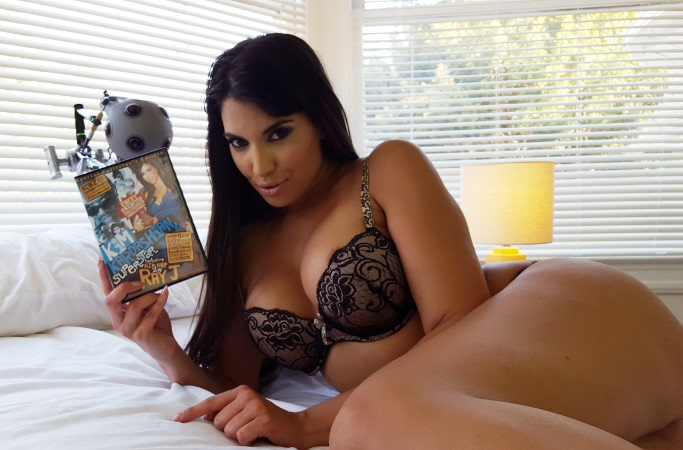 Block, who serves as the chief executive officer for 3X, expanded on the concepts, the working relationship and what the future may hold for adult VR content.
YNOT: When did 3X come to be?
Adam Block: We officially formed the company in early 2015. After Facebook's acquisition of Oculus, it was clear there would be a virtual reality tidal wave coming over the next few years and this tech would really begin to take off. We knew with our backgrounds and skillsets that we could bring a unique perspective and help push this technology within the adult sector.
How many people does the company employ? Do all of you have a game industry backgrounds? 
In terms of staffing, we like to remain as lean as possible at this stage in our development. Daniel and I both come from the games industry at various Activision and Sony studios. 3X Studios' team is hand-chosen from both the gaming and film industries.
Games have been 3D for a while, and gamers took to VR like crazy. Why leave that sector for corporate projects?
I don't know if I would classify the work we're doing with Vivid as "corporate projects" so much as compelling and immersive entertainment experiences. We've been given complete creative freedom to focus on pushing VR technology in order to produce top-quality content, so it's really ideal. Historically, the adult industry has been the driving force behind emerging technology. Think of the VCR, the internet and even webcams. It's innovations and adapting to new technology that can really change the landscape of an industry. Virtual reality is no different.
The game industry and the adult industry share a sort of "kindred rebelliousness." Nevertheless, a lot of folks shy away from adult projects. Why did 3X dive in? What convinced you to work with Vivid? 
Vivid is such prominent and exciting brand within the adult industry and has always delivered the highest quality content, so for us it was a no-brainer. Vivid's expertise and wisdom coupled with our experience in the gaming and film industries make for an ideal match and truly remarkable VR experiences. The ability to work with celebrity content is also unique and certainly popular with the fans.
While mainstream companies in some verticals will work with adult studios on special projects, most don't want their names attached. 3X has been very open about its work with Vivid. Why? 
We really have nothing to hide, and we're proud of the fresh perspective we offer. For us, it's about pushing the technology and breathing new life into an age-old industry.
Now that you've actually worked with a porn studio, have you revised any preconceived notions about the adult entertainment industry?
What I learned pretty quickly is that the adult industry is not some wild party and is probably much more normal of a working experience than most people want to hear about. Our philosophy is that it really just boils down to respect and treating others the way we'd like to be treated ourselves.
In a Vivid press release, you said "Our goal is to redefine what adult entertainment can be." What is your vision for what adult entertainment can be?
When our customers put that headset on, we want to teleport them directly into the middle of their wildest fantasy. The tools, technology, camera perspectives and designs we incorporate truly feel as though you're right there in the action, and for that 15-20 minute experience you really do forget you're actually on your bed or sitting on your couch at home.
Our collaboration with Vivid is committed to raising the overall quality bar in terms of visually stunning, high-definition 3D video production coupled with the most streamlined and easy-to-use end-user experience. As VR continues to grow, 3X Studios and VividVirtual will remain at the forefront.
Most games are constructs, not live action using real people. How else does creating adult entertainment VR experiences differ from creating VR games? 
I would say the general landscape of how things work is a little different. Like anything else, there's a learning curve in working with the latest cameras, render processes, software and pipelines. Fortunately, Vivid has been a great guide and extremely helpful in us getting our feet wet on the adult industry end of things. Each experience is unique and allows us to become more effective and streamlined moving forward.
What is the most intriguing/most fun part of creating VR porn?
Allowing the talent to be more creative, for sure! While the technology behind VR breathes a new life into the adult industry, the talent also has a whole new approach to how they perform. There isn't necessarily a crew in the room while shooting, so the talent has a truly intimate experience together. This way of producing content is really conducive to capturing intimate and immersive footage.
What presents the biggest challenges when creating VR adult experiences? Did you run up against anything you absolutely did not expect?
We had a pretty scary experience once when we lost our camera's WiFi signal to our recording rig due to the camera overheating. It took us a little bit to figure out what was going on, but technical hiccups like that are expected from time to time.
Because Vivid is notorious for blazing new trails (Vivid started the celebrity sex tape phenomenon), it's not a stretch to imagine the studio's leap into VR in such a big way presages some interesting, cutting-edge stuff to come. Can you talk about any of that? Maybe just a hint?
I can say that what we have in store for the adult industry and our future VR experiences with Vivid will most certainly not disappoint. Vivid fans can count on both the expected and the unexpected. We have a lot of opportunity to work with both new and existing celeb content, and Vivid fans will be impressed with what we are delivering. I would suggest grabbing a membership at VividVirtual.com and not miss out on a thing.