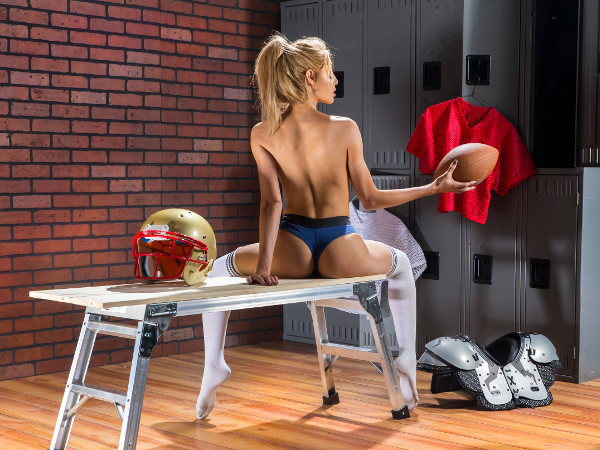 ENGLEWOOD, Colo. – One of the nice things about not believing in any God is I don't have to sit around wondering whether any given thing I do pisses Him off, or reminds Him of something He finds abominable, or any of the other shit all those "God-fearing" people presumably walk around scared about all the damn time.
Best of all, arguably, I don't have to spend any time at all wondering whether watching football might be just as big a sin as watching porn.
As you can tell by reading the post linked above, the fourth commandment presents almost as big a problem to fundamentalist Christians as the Fourth Amendment does to law enforcement, in the sense that both are rules preventing things that seem perfectly reasonable on the surface — like working a shift down at the factory on Sunday afternoon or breaking into homes in which it sure smells like someone might be doing something illegal.
"What has yet to be proved (or considered) is why violating the seventh commandment is any worse than breaking the fourth," wrote D.G Hart.
For those trying to keep track at home, the seventh commandment is one of the most un-fun biblical commandments, because it pretty much says you aren't allowed to fuck anybody but your wife, even if you don't have a wife.
Implicit in Hart's concern is the idea professional football players are all violating the fourth commandment by plying their trade largely on Sundays. Interestingly, the part of the game where they damn-near kill each other on every play appears to be completely acceptable under every commandment (although as I read the relevant passages, all those bobblehead dolls should count as "graven images").
At any rate, to further emphasize his point, Hart compares the sins of Sunday football and porn side by side:
"There is a cost to your family. Men are tearing apart their families for the sake of illicit sporting pleasures; women are shunning the attention of their husbands in order to read or watch what is forbidden. Children are being exposed to pornography professional football through the trails their parents leave behind. Fathers are inviting Satan into the home by their commitment to what God forbids and what Satan loves. For the sake of your family, stop looking at pornography watching the NFL."
It's a nice rhetorical device, I suppose, but only if you divorce it from the bizarre context of this whole line of reasoning. After all, how can God not want me to watch football at the same time he's helping all the winning teams triumph? Isn't this what the winners in many different sports tell us after the contest, when they feel compelled to "give all the glory to God" or bestow "all praise to Him"?
The more I think about this, the more confusing it becomes and the more questions it raises in my mind.
For the sake of argument, let's suppose there's an upcoming Thursday night football game involving Christians on both teams. The scheduled night of the game removes our fourth commandment concerns, but what if the Thursday in question happens to be Christmas or All Saints Day? Should the game go on?
Making our football hypothetical even trickier, what happens if a member of the team (Christian or otherwise) watches porn on his smartphone in the locker room before the game? Would this change God's preferences as to who wins? If so, is there any way I can find out about this surreptitious porn viewing before the Vegas odds-makers do?
Thankfully, it's not football season right now, so I don't have to worry about any of this from a secular gambling perspective until September. In the meantime, I'm exercising my prerogative as an atheist by watching a lot of porn, as well as a lot of international football (or, as we Americans call it, "badminton").
Honestly though, the whole God/porn/Sunday question just gets even more confusing in the context of international football, because a lot of those football players believe in God, but apparently not the same God who doesn't want us to work on Sundays. Or maybe their God doesn't want us working on Sundays either, but He's just less of a dick about it? Clearly, I need to do more research on this subject, unless doing research violates some other commandment.
Hmmm…. Come to think of it, the existence of such a prohibition would explain a lot of what's going on in the world right now, wouldn't it?