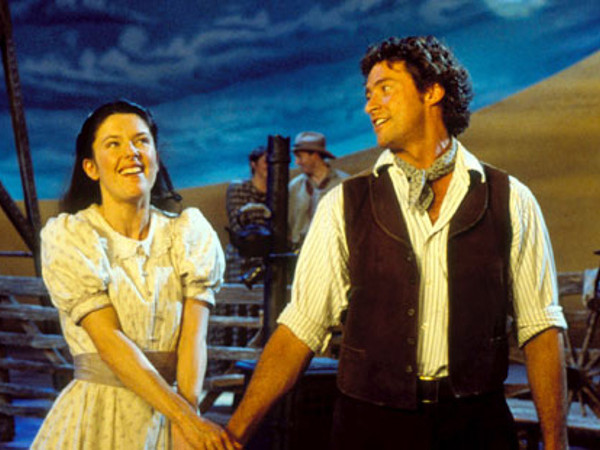 PAYSON, Utah – In the famous words of Supreme Court Justice Potter Stewart, "give me a fucking break."
Wait… No, not those words from Justice Stewart. These words: "I shall not today attempt further to define the kinds of material I understand to be embraced within that shorthand description ("hard-core pornography"), and perhaps I could never succeed in intelligibly doing so. But I know it when I see it, and the motion picture involved in this case is not that."
You know who else knows porn when they see it? A couple of outraged parents in Utah – and they know the 1999 made-for-TV version of Oklahoma! starring alleged Australian Hugh Jackman is both visual and verbal pornography.
At a recent meeting of the solemn-looking people who constitute the Nebo School District Board, an intrepid hero of American decency named Jared Bolton said he was there to speak "on the topic of a pornographic video" that was shown at Payson Junior High.
At issue is an eight-second portion of the movie, in which the camera zooms in on a selection of photographs that appear to depict women in varying states of partial undress. The depictions are heinous enough by themselves, obviously, but making matters much worse is the lines spoken by Wolverine Jackman as he ogles the photos.
"She's plum stark naked as a jaybird," says Jackman's character, "Curly," whose name is an obvious and inappropriate reference to pubic hair.
Thankfully, the innocent children of Payson Junior High are not without their champions in this world, so the school district is being held to account for its unforgivable crime by the Boltons, who, it should be noted are no relation to this Bolton, who has committed many serious crimes of his own.
As Jared Bolton noted, the shocking scene with the nearly-discernable nude photographs is not the only pornographically problematic aspect of the Rodgers and Hammerstein smutfest.
"The first hour was filled with verbal pornography," Bolton observed, "containing lines such as 'a girl that is round on top, round on bottom, peeling off clothes as far as she could go.'"
Clearly, this sort of dialogue is barely appropriate for a porn-filled premium cable network like HBO, let alone a so-called "musical" shown to innocent junior high school angels.
Bolton's wife, Kathryn, also alerted the community to the tragic circumstances with a Facebook post, cleverly keeping the post from coming to the attention of the Broadway Musical Mafia by refraining from referencing the vile, pornographic work by its inflammatory title.
"A pornographic movie was shown in a classroom setting to approximately 125 students," the (since-deleted) post read. "Among other things, the movie contained an 8-second close-up of 10 full-frontal images of 10 naked women."
Predictably, the unaccountable communist sympathizers and reprehensible Hammerstein-porn addicts of the school board and their co-conspirators at the junior high are trying to deflect blame, while simultaneously downplaying the seriousness of this unforgivable crime against humanity.
While the school district did send out an email conceding "some inappropriate material was viewed by the students" it went on to pass the buck to the besieged parents of the students when it comes to soothing the irreparable harm done by the eight seconds of exposure to harmful material.
"As parents, you may want to visit with your student about this," the email reads.
Worse still, some administrators are trying to make it sound as if  the Boltons are overreacting by noting they are the only parents whose children were scarred for life by the lurid film to come forward and complain.
Naturally, the Boltons are having none of this laughable – and inexcusably delayed – buck-passing and blame-shifting.
"We tried for 14 days to get administrators to notify parents, and they refused," Jared Bolton said. "We simply want the administration to be accountable to parents."
While the school district has tried to blame the whole sorry incident on a rogue substitute teacher, throwing the sub under the school bus by saying the fill-in educator failed to follow district protocol, this can't be explained away as a simple lapse in judgment.
If not for the brave Bolton family, none of us would know there's a Utah school district indoctrinating youth into the Cult of Pornography one randy musical at a time. If the school didn't see it fit to notify parents they intended to screen trash like Oklahoma!, what else haven't they told us?
Are Utah's children being involuntarily exposed to provocatively-entitled filth like Babes in Arms and the verbal pornography therein of "The Lady is a Tramp"? Do you want to have to explain to your child a sick, perverted lyric like "She loves the theater, but she never comes late"?
You know, it's exactly this sort of travesty the Utah legislature was warning us about with its resolution declaring porn a public health crisis.
Laugh all you want, licentious liberal elitists. You won't be laughing when it's your kid who comes home singing "Hello, Young Lovers."
Image via PBS.