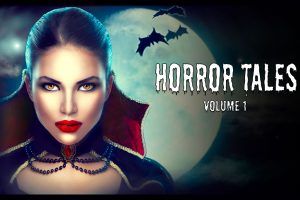 HOLLYWOOD, Calif. – Sparks Entertainment has released Horror Tales: Volume 1, a double-feature which includes The Vampire Mistress and Rotkappchen: The Blood of Red Riding Hood, exclusively on Vimeo on Demand, the company announced today. Horror Tales Vol 1 features R-rated versions of both erotic horror titles.
"I re-released these films as a double feature for erotic horror fans who might not have seen the adult or unrated versions – they're more plot-driven and feature softcore sex," said Harry Sparks, the award-winning director, producer, and editor behind Sparks Entertainment. "I hope to reach a new audience, who will fall in love with my films. It's on Vimeo Demand, so it's affordable and a great night in."
The Vampire Mistress comes first in the double feature, with a plot centered on "a young reporter who must choose between joining an evil vampire society or using her newfound power to bring them down."
In Rotkäppchen, a German teenager "finds life difficult in her new school and chooses to focus on her book of fairy tales and discovers the power of imagination – and werewolves."
Horror Tales: Volume 1 is available on Vimeo here. The double feature is available to stream at the price of $3.99 or can be downloaded for anytime viewing for $10.99. The two-hour double feature can be streamed via iOS, Android, Apple TV, Roku and Chromecast, the company said.
Sparks also announced that the director's cut of The Vampire Mistress will soon premiere on Pornhub Premium.
The Vampire Mistress was first released in 2013, garnering multiple award nominations along the way. Some of Sparks' other works include A Night to Dismember, No Walk in the Park, You Don't Know Jack, The Apartment Above and Shenandoah. He also produced, directed and edited the 2012 title Revenge of the Petites for AMK Empire.
You can keep track of the latest news from Sparks Entertainment by following the company on Twitter @SparksEntxxx, on Instagram at https://instagram.com/sparksentertainmentofficial, on the company's Facebook page at https://www.facebook.com/sparksentertainment and on the studio's official website Sparks-Entertainment.com.