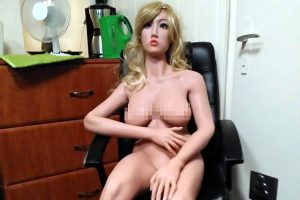 TORONTO – As a fundamentally repulsive human being with no redeeming qualities, you'd think I'd get laid all the time. That's how it works in the movies, anyway.
In real life, or in my real life at least, I'd only be sexually satisfied by my interactions with women if getting slapped in the face was my kink, if you catch my drift.
This is why I was so excited to hear about a sex doll brothel opening in Toronto – and why I'm now so decimated to hear it's not going to happen.
"Aura Dolls was ready to open in a Canadian strip mall Sep. 8 and had prepared a special launch sale of 25 percent off," Newsweek reported. "But a Toronto councilor, John Filion, managed to uncover an old town bylaw that forbids adult entertainment venues from opening in Willowdale."
See? I told you legislators ruin everything! Or maybe I told that to my cat. I do recall that I told it to someone who was sitting right next to me at the time – so come to think of it, it had to have been my cat.
At any rate, Councilor Buzzkill went on to add that he was happy to get the issue resolved so quickly.
"Staff spoke with both the business owner and property owner to tell them use would be illegal and the property owner, through a manager, said the lease had been terminated as of yesterday," Filion said. "It's great. Sometimes these battles go on for much longer than they should. People were so concerned about this that I'm very relieved that we got an extremely fast solution."
Oh, sure John; it's just great. I don't suppose "Staff" also spoke to the thousands of forlorn doll-lovers this decision has deeply disappointed? No, of course not – nobody listens to us (except maybe our cats)!
I mean, just listen to how great this doll brothel was going to be:
"We don't have staff there, just a camera," said Aura Dolls marketing director Claire Lee. "The payment is taken at the beginning, you go into the room, do your time and just leave."
Hmm. I feel like Claire sort of casually slipped in that bit about the camera without telling me whether I'd have the option of signing a model release before my doll-fucking video hits Pornhub. On the other hand, I can understand why she didn't want Staff there; just look what that traitor has been up to recently on behalf of the brothel's legislative naysayers!
On the plus side, the brothel was going to feature "thoroughly sanitized" dolls, which is good, because nothing ruins an otherwise rewarding sexual encounter with an inanimate object like discovering the hard way it has been less than thoroughly sanitized.
Oh sure, Toronto has traditional brothels, which employ real women, and I suppose I could still go to one of those. But for that to work, I'd need to dull my sense of empathy first, lest I start feeling so sorry for the poor working girl reluctantly pleasuring me that I lose wood in the middle of our encounter.
In Councilor Buzzkill's defense, it does sound as though some residents of the area were less than thrilled to hear about Aura Dolls impending arrival in the neighborhood.
"I was disgusted by them and so, I took them down," local resident Carla Amodio told the Toronto Sun about posters advertising the brothel. "We have a shared Facebook page in our neighborhood and everyone was appalled by this."
Not to quibble too much with Carla, but did she honestly expect anybody on the Facebook page in question to pipe up and say "Hey now Carla, I'd like to fuck those dolls. Why don't we give this Aura thing a fair shot?"
Oh well, it's too late now. I'm sure there's still plenty of exciting things to do here in Toronto between now and my return flight to the great-again country I call home.
What's that you say? Hockey season hasn't started yet?!?! FML.