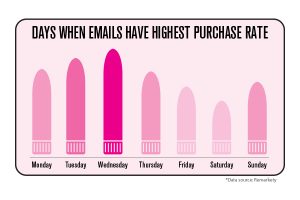 The folks at Pipedream want you to know that they're "totally obsessed with [their] customers" – which is actually nice information.
According to some PR, Pipedream wouldn't be where they are today without their customers. As such, they want to help said customers reach their goals too. This, of course, makes sense because if customers are meeting their (sales) goals with Pipedream products, they will be more inclined to keep moving the brand.
It's a classic case of what's good for the goose being good for the gander, only without gender and …birds.
With all this in mind, Pipedream likes to pass their "most successful ideas, campaigns, content and products" on to customers, and today they had some interesting news about their results driven strategy for e-mail marketing.
"We've found one simple formula that has guaranteed increased open and click rates and, even more importantly, soaring purchase rates," Pipedream teased.
And then they gave the answer: Wednesdays at 9am.
According to Pipedream, the common denominator amongst their most successful e-mail campaigns is that they've all been scheduled for launch on Wednesdays at 9am.
"Not only do we have our own analytics to support this, but top e-mail marketing services like Remarkety have shared statistics from shopping trends across multiple industries that all boil down to this same conclusion," the organization explained.
They included two cute graphics to drive their point home. One shows Wednesday emails having the highest purchase rate. The other breaks down variable purchase rates on the basis of times of day. One assumes this data is applicable to each day of the week, not just Wednesdays.
In both, the data comes via Remarkety, and the cute layout is (presumably) via Pipedream — sex toy graphics and all.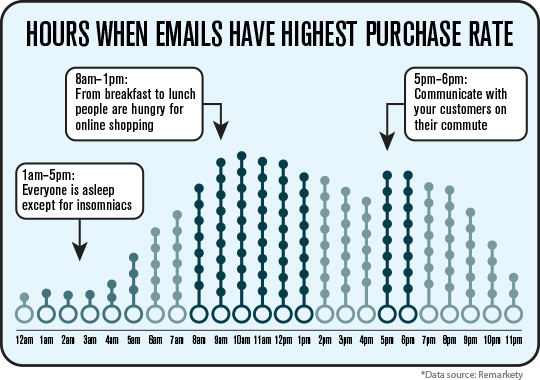 Email marketing is difficult. There seems to be no rhyme or reason to it, so if some data has cracked "shopping trends across multiple industries" — well, there's no harm in giving it a look and a try. The key thing to remember with email marketing (and with marketing in general) is that it's never automatic. You need to be paying attention to your campaigns constantly, tweaking and testing all the while — not just on Wednesdays.
Pipedream's bit of news is useful though.
"Whether you're a large distributor or small retail store, this simple tweak to your e-mail marketing campaigns will certainly increase your exposure and ultimately your sales," they suggested. There's no harm in giving that bit of info a go.