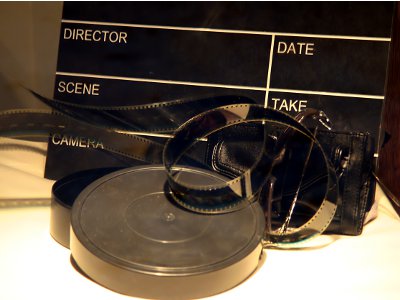 By Peter Berton
CYBERSPACE – The Internet Adult Film Database, online since 1999, is the go-to resource for adult film information and trivia. The site continues to pay tribute to the memory of founder Peter van Aarle, who died suddenly in 2005 after starting the site on a shoestring from his home in The Hague, Netherlands. What began as a labor of love for one porn fan with a 20-year repository of information has grown into an unstoppable force.

Webmaster Jeff Vanzetti keeps IAFD.com going, devotedly updating the site with help from a team dedicated to the proposition that no porn shall go unnoticed.
YNOT: What is the underlying credo of IAFD?
Jeff Vanzetti: We aim to be the leading authority on "who is in what movie." Porn credits aren't the most focused-on part of the production sometimes, so we pick up the slack. We sort out all the girls named Nikki or Ginger and make sure they're credited on our site, if they're not credited in the movie itself or incorrectly credited.
As for me, I co-founded the site and I maintain the server and the underlying programming. I also corral the team of editors.
IAFD offers more than just "who was in what movie."
Yes, it does. We provide the most accurate cast lists for more than 135,000 movies, and we have more than 108,000 reviews from such leading websites as RAME, Adult DVD Talk, RogReviews, XCritic, CAVR and others.
We also have a price search engine so you can buy or stream the movies you find.
IAFD existed, sort of, even before the internet, didn't it?
The project was started by Peter van Aarle back in 1981 or '82, when he started to keep a record on paper index cards of which movies he had seen, the director of the movie, the female cast list and a short outline of the plot. Eventually, he computerized his data and then augmented it with whatever he could get his hands on — AVN, Adam Film World, Hustler, etc.
Peter found his way to Usenet and alt.sex.movies, which is where I met him in 1992 or '93. Peter was constantly posting filmographies to the newsgroup in response to some request or another, so a fellow newsgroup member, Heretic, offered to write a web interface to Peter's data.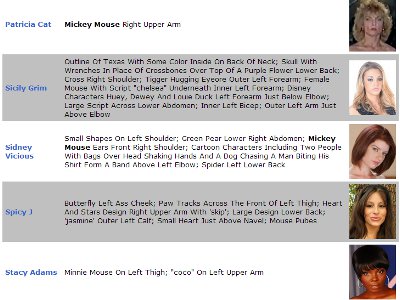 Peter didn't want to give away the cow, so he gave post-1989 data to Heretic for posting. The site was successful and allowed Peter to stop posting filmographies and focus on other things like feeding the database. After a while, Heretic moved on to the armed forces and the site died.
Peter and I first met in person at the East Coast Video Show in Atlantic City in 1997. In the years after, I proposed putting the database back online since I was looking to learn web programming. Peter thought it was a good idea, and by February 1999, we were off and running as IAFD.com.
I had scraped together some money and bought a server running Windows NT 4.0 and built the IAFD, which ran off a DSL line in my attic. Eventually the service got too popular, so we upgraded servers and moved them to a co-location facility where they have all the bandwidth they need.
What are some of the details users can find on IAFD?
For movies: title, director, running time, studio, distributor, actors and actresses and the sex acts they perform, scene breakdown, reviews and online shopping options.
For performers: biographical info including birthday, birthplace, ethnicity, nationality, heritage, measurements, tattoos and piercings, websites, social networks and their filmography.
How do you keep the database up to date?
We have a team of 14 volunteer editors working on the site daily.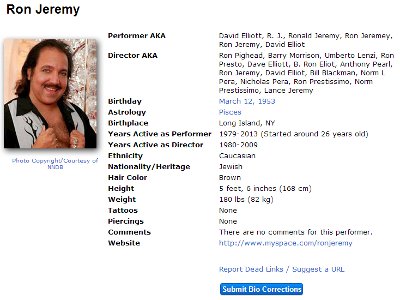 What are some of the most interesting or strangest facts logged into the database?
A Belgian waffle has a performer profile. The tallest porn performer to date is Chanel Price at 6'4"; the shortest is Bridget the Midget, aka Bridget Powers, who stands at 3'7". The heaviest porn star to date is Teighlor at 719 pounds.
Sharon Kane is the most prolific actress with 1,037 titles under her belt; Tom Byron holds the male record with 2,581 titles.
What are the future plans for IAFD?
We're looking to expand our coverage to web-based scenes, a personalization service — a my.IAFD kind of thing, to track what you own — and IAFD.me, which will be an easy way for performers to link back to their own profiles.