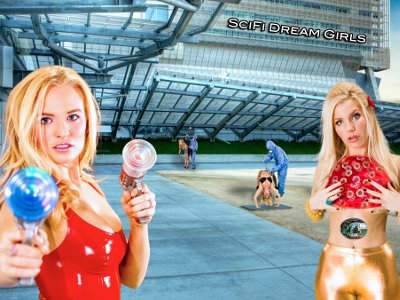 By Peter Berton

BOSTON – Imagine a world where uber-sexy female robots — fembots — are willing to satisfy every human sexual desire. Now add an old-fashioned science fiction potboiler plotline incorporating maniacal schemes to take over the world, special effects. Top off the whole thing with hardcore sex, and the result would be a technosexual fantasy come to life.

In other words, SciFi Dreamgirls, a story-driven adult web series helmed by Ashley Fires in collaboration with the diabolical minds at Wasteland.com.
YNOT neutralized Fires — who plays dual roles as a scientist and a fembot in the project — long enough to hypnotize her into answering a few questions.
[B]YNOT: This isn't your first orbit, is it?[/B]
Ashley Fires: I've been the adult industry for about 10 years now. I started doing fetish and girl-girl scenes, and then over the past few years I've been doing hardcore boy-girl scenes. I have been nominated for multiple awards, and for the past seven years, I've been the official spokesmodel for Clips4sale.com.
I'm a sorcerer in the kitchen, a demon in the bedroom and most likely was a man in a past life!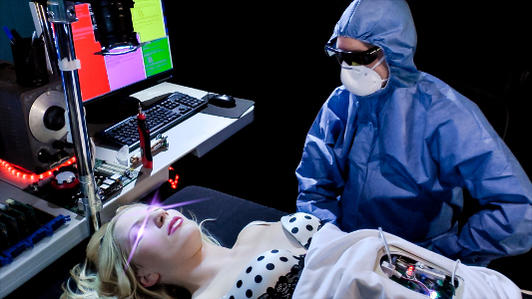 What is the concept behind SciFiDreamgirls.com?
ScifiDreamgirls.com is the first of its kind: An original, episodic [science fiction] website that follows specific plotlines. It has recurring sexy characters whom viewers get to know and love. It also has high-end production values, cool special effects and, of course, hardcore sex.
We wanted to create that "what happens next?" anticipation with every episode. Viewers and talent alike are always very excited to see what the next video holds in store for them.
What was the inspiration?
In 2006, we were shooting a lot of different kinds of fetish videos. I had come home after a Playboy TV promo shoot in which I played a 1960s mod girl, so my hair was teased up and I had on cool-cat eye makeup. [My husband] Jack took one glance at me and said he thought I looked just like the sexy, evil fembots from Austin Powers.
"Before you take off your makeup, let's shoot a video where you are a robot and I control you with a RC remote," he said. "I will command you to give me a handjob, and you malfunction while you doing it and you can't stop. While doing so, you say things like "Error, error…. Does not compute."
Okay, so it may sound like a silly idea for a video clip, but I was excited and thought it was brilliant. We shot and it turned out to be a very funny clip. But would it be hot? Would someone be able to get off to it?
A few days later we released the clip on our fetish studio [site], and it sold like crazy. For years, it was one of our No.1 clips of all time.
We started noticing a lot of traffic coming from a site called FembotCentral.com. We have no idea what the site was, but it seemed to be fans of female robots. We started surfing the site and found out there were a lot of people into this kind of fetish, and they had posted often about the clip and me. They loved it and thought I was a perfect fembot.
We had heard or done pretty much every fetish out there, but had never heard of a technosexual. The whole world fascinated us.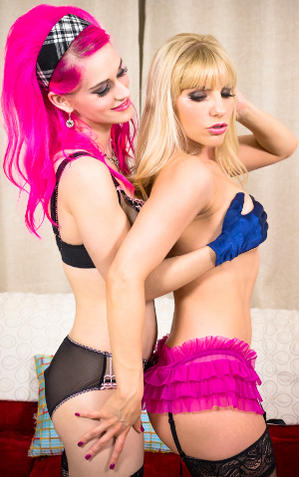 You might think we would have done more videos like that immediately, but instead we put that idea on the back burner and moved on to the other fetish video series we had. But it was always in the back of our minds to shoot another robot video one day.
Cut to 2012, just after we moved to New Hampshire. We had decided since we were in a completely new environment that we would do some new types of content, and the robots idea resurfaced.
We are huge fans of the sci-fi genre so it was a pretty easy transition. We started filming fembot content and the style of the project started to take shape.
The content is deliberately kitsch and retro — the Mystery Science Theatre 3000 type of sci-fi we all fell in love with growing up. We then decided to make [the project] episodic and join forces with Wasteland.com as co-producers to greatly expand our set and tech resources. The feedback we received from fans, old and new, was tremendous.
Give us a brief overview of the series.
I actually play two characters. The main story line revolves around Dr. Fires, a leading scientist in the field of robotics and applied android development. She has always loved her work and had a vision of a world where robots interacted with humans sexually.
Once the head scientist for the HRX Corporation, she left when the government tried to weaponize her creations. Dr. Fires starts her own experimental android division under which she creates her own HRX (humanoid robotic experiments) model, the Ashley 3000 — which I also portray. Ashley 3000 is far more advanced than any of the past HRXs: She is the very first fully functioning sex android. Built for the sole purpose of providing pleasure, the Ashley 3000 is designed to satisfy any human's sexual fantasy.
When the evil HRX Corporation catches wind of Dr. Fires' new prototype, [the corporation's executives] do everything in their power to capture the Ashley 3000. They send their own evil HRX fembots to try to bring her in, and they are met with one exploding orgasm after another. Dr. Fires combats the corporation by creating more fembots and constantly upgrading Ashley 3000 to make her even more powerful.
After many attempts, HRX Corporation finally prevails and Ashley 3000 is captured and reprogrammed. But a Spybot is sent to break her out, and Ashley 3000 escapes and is now out in the world encountering one sexy adventure after another.
Do you find the Ashley 3000 role challenging as an adult actress?
Ashley 3000 really gives me a chance to lose myself in the role, but it can be extremely challenging at times to remain always in character as an android while having an orgasm devoid of natural human reactions. All the while I'm also trying not to forget my lines!
What scene has been the most fun to date?
There are two scenes that stand out the most to me. The first was the creation of Ashley 3000. For that we used a split screen so I could play both Dr. Fires and Ashley 3000 in the same scene. That was tough, having to do the exact same movements while watching playback and interacting with myself, but it turned out fantastic and everyone loved it.
The second scene is called "Anal Aperture." I am such an anal queen that any reason to stick something in my butt while I am a robot is going to be a hot scene. The whole premise was the scientists needed to test Ashley 3000's asshole for design flaws, sufficient lubrication, pleasure response and, of course, how much she can gape.
You just did a live fembot show online. How did that go?
We staged the first part just like a scene: There was no interaction for the first 20 minutes or so. My husband and crew have extensive theatre backgrounds, so it was presented very much like a live stage performance.
The last half of the show was interactive: Members were able to control both me and the other female android. They commanded us to do naughty things with each other, and we complied.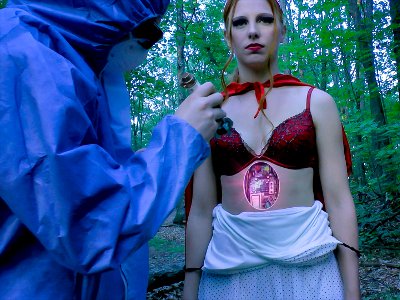 It was a lot harder to do this live. We film our scenes: We normally shoot many takes and are able to stop when there is an issue. But with live performance, we just had to roll with it. I loved it. Anything that makes me think on my feet and react quickly is a lot of fun.
What sort of potential do you see in the sci-fi sex fetish category, both as a whole and for you personally?
The technosexual world has been there for a while, and with the addition of newer fetishes within that world it constantly is growing.
As a new genre for adult entertainment, the potential for attracting mainstream members is excellent as this [genre] crosses directly into the science fiction and graphic novel areas, which have a largely untapped source of viewers.
Personally, I am hoping eventually to create a real fembot clone of myself for 24/7 servitude.