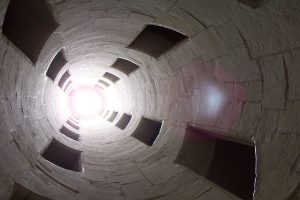 LOS ANGELES – One of two things happened to me recently: either I accidentally traveled back in time, or I experienced one of those infamous "acid flashbacks" people who have never taken acid occasionally talk about, typically when they're listing reasons why I probably shouldn't have taken all that acid back in my youth.
My evidence of this accidental time-travel/long-dormant LSD side effect is an article in the Los Angeles Times which sports the headline "Antonio Sabato Jr.'s risqué film roles have conservatives questioning his congressional candidacy."
While the article appears to be dated January 16, 2018, I'm having a hard time believing my eyes – and not just because I'm expecting to start seeing trails any moment, if indeed this is a flashback.
What makes it so hard to believe is the notion conservatives (in any significant number) object to the idea of supporting a candidate because he has appeared in films which aren't quite explicit enough to describe as "softcore porn," while simultaneously shrugging off reports of the sitting Republican president carried on an affair with a porn star, then paid hush money to her to keep the story out of the press during his campaign.
My assumption is conservative voters are at least as consistent in their objections and concerns as are my cats – which is to say, no matter what color dish I tried to serve them diet food in, they'd still reject the healthy-but-bland diet food in favor of delicious Deli Cat.
So, if the date on the article is accurate, and I'm not having a flashback, there must be more to GOP hesitancy about the prospect of a Rep. Antonio Sabato Jr. than just his appearances in "risqué" film roles.
"Some Republicans in his district… are saying movie roles in which Sabato simulated sex with a man and appeared nude disqualify him from representing the GOP," the Times reports.
Ah-ha! So, it wasn't just risqué, it was risgay, too? Maybe that's the problem here.
Wait a minute, though; I thought ever since Trump figuratively wrapped himself in the rainbow flag, being gay was A-OK with the GOP?
In addition to pretending to be gay, Sabato didn't also pretend to be married, did he? Because being gay is one thing, but threatening to destroy the fabric of the traditional family structure or to invite natural disasters upon our great nation is a whole other thing.
In any event, one of Sabato's opponents, fellow Republican Ret. Air Force Maj. Jeffrey Burum, said Sabato's "behavior is inconsistent with anything I would want from a congressional leader."
"It's also inconsistent with a party which has always favored traditional family values, which do not include porn," Burum added.
Whoa there, Jeffrey; did you miss the memo about the Commander in Chief not only allegedly dogging around with Stormy Daniels, but repeatedly promising to get her a spot on The Apprentice, as well? Hell, had Trump come through on that pillow-talk pledge, right now Stormy might be fielding interview questions about whether she quit her White House job, or was fired.
For his part, Sabato played the starving actor card, essentially arguing that when you're a struggling young thespian, you do what you must to get bi by.
"I've done many movies," Sabato said – a claim which gets a Suroeste fact-check rating of Not Entirely Bullshit, especially if you count made-for-TV movies. "I've done things I'm proud of and things I'm not so proud of, that's just the way any actor works. They don't know what kind of congressman I'll be, the work ethic I have."
Personally, I think conservative voters should give Sabato the benefit of the doubt, or maybe just write off films like Testosterone as nothing more than a "locker room movie." After all, if they're willing to forgive him for his rougish behavior as Dante Damiano on The Bold and the Beautiful, they should be able to overlook his turn as a Playgirl centerfold, too.
By the way, if it ever comes to light that Sabato paid Carter Dane to stay quite about a sexual relationship between the two, I sure hope we don't later find out Dane considered the sex to be "textbook generic," because that would be a seriously disappointing thing to hear about someone who played the studly male lead in Princess of Mars.