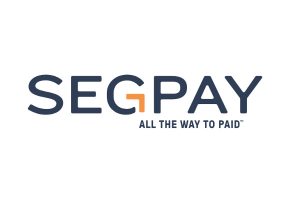 Segpay is coming off of a great 2017.
In addition to reporting revenue growth for the twelfth consecutive year, the digital payment processor relocated its corporate headquarters, launched an updated merchant portal and introduced an affiliate marketing platform. Segpay also recently debuted a new visual brand identity, which includes the tagline "All the Way to Paid."
The company's updated look and feel was developed to help accelerate their expansion in the worldwide online payment processing category – and in today's adult industry, that points to cam. Segpay has seen strong a increase in the cam space, which helped fuel their 37 percent growth last year.
"We're committed to meeting the needs of cam merchants," said Segpay's VP of Operations, Jeff Rosenzweig. "We're seeing a big shift in revenue, and it seems like the cam programs are starting to take more and more of the market share. With that in mind, we've made a commitment, especially in 2018, to really drive product development specific to cam merchants."
With these ends in mind, for instance, Segpay is coming out with a product called "Post Pay" this month, which allows cam merchants to do a single authorization and then have multiple transactions levied against that same authorization.
"This helps in that the cam consumer doesn't see as many authorizations on their credit card bill," Rosenzweig explained.
"On a cam site, [consumers] might be buying four or five token packages in a 12-hour period. So rather than seeing four or five individual line items on their credit card, they only see the one," he continued. "It looks better on their statement, and it's more user friendly — it helps the cam merchants a lot."
Supporting cam merchants in this way pointed to a larger issue Segpay is determined to tackle – managing the unique risk issues that impact the cam space.
"The biggest difference from the cam market versus our membership base is the whole risk component," said Segpay's CEO, Cathy Beardsley. "It's so open and easy to continue to transact and build up charges when talking with a cam model or being on a cam site, and that's where our focus has been to help the cam merchants."
Beardsley explained, "Especially for new entrants to the cam space, we find that they don't have a lot of experience managing risk — so that's the biggest area that we're building out our backend support for these merchants."
Another issue cam merchants contend with in a unique way is chargebacks, which Segpay has also tackled, in part, via enhanced consumer authentication.
"We implemented 3-D secure in the last half of 2017," Beardsley shared. "In the adult space, there has been a hesitancy to promote the Verified by Visa or Mastercard SecureCode programs on payment pages, but our largest cam clients are really taking advantage of that and using that as a way of authenticating the consumer."
According to Beardsley, their European consumer base is much more accustomed to this added authentication process than their United States counterparts. "This process is slowly being integrated into the U.S. though, and it helps in protection against chargebacks," she explained.
Moving further in 2018, Segpay has many more initiatives in the works to help support cam merchants. Their Post Pay program has a Phase Two coming later this quarter — a verification program to help ensure the card holder is who they say they are – and they are working with partners to develop better solutions for handling model and affiliate payouts, none of which is happening in a vacuum. Segpay has made a commitment to hold roundtables and outreach initiatives with their merchant base to learn directly what people need.
"Merchants, in general and especially in the adult space, have a hard time getting settlement accounts. Sometimes it's not so easy to get money to the merchant and if those merchants are actually paying an affiliate and models, it could be even more difficult for them," Beardsley shared. "So we're looking to add a couple of different payout processes to help merchants pay their models. We also have some alternative banking solutions for our merchants that will make it easier for them to pay their models."
In their recent announcement regarding Segpay's new brand identity and positioning, Beardsley was quoted saying, "We're no longer the little girl in the corner at the big dance. We want to be the 'Belle of the Ball.' Our new brand identity was developed to reflect our maturity and leadership position in our industry."
This quote speaks to a sentiment Rosenzweig speculated he'd heard in the past. "[We've heard that] maybe we're not as robust and mature as some of the other companies, and I think that's completely false," he offered. "I think our system is equal if not better than anybody's in this space, and I think that's something that we're going to make a concerted effort to let people know in 2018."
In addition to the merchant-friendly adaptability that comes with being belle of the ball, Beardsley also asserted Segpay's commitment to transparency.
"I will say we're the most transparent," she said. "Whether it's good news or bad news, you're going to get a straight story from me and the team here at Segpay."