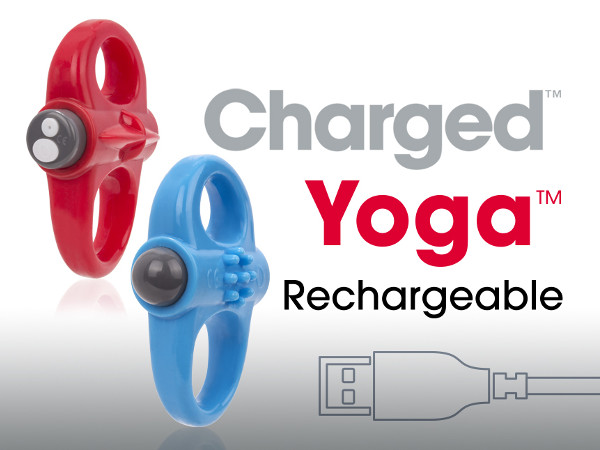 LOS ANGELES – Screaming O has upgraded its popular Yoga vibrating ring and made the new rechargeable version available in a free sample pack designed to give customers firsthand experience with the company's powerful Vooom motor.
The new Charged Yoga, part of a growing family of rechargeable versions of Screaming O classics, is an extra-stretchy cock ring that reduces constriction and may be worn in three different ways. The product features 10 vibration functions.
According to the manufacturer, Charged Yoga is "a great option for cock ring beginners ready for a rechargeable upgrade. Charged Yoga's top ring can be used as a finger ring to help users position the vibrator exactly where they want it. For more advanced users, this loop can be used as an additional cock ring to give him a special vibrating boost with the bonus of cock-and-ball isolation."
Charged Yoga also features a double-sided, reversible design with different textures on the front and back: One side boasts soft, extended nubs while the other has a modified "jean seam" fin that flicks, rubs and rocks against the clitoris for a sensation boost. Charged Yoga lets couples flex their way to sex-positive fitness with the comfort of stretchy, body-safe SEBS and the rumbling vibration power of Screaming O's low-pitch Charged Vooom Bullet.
"The Yoga's super-stretchy design was such a hit in our testing phase that it only made sense to offer it in entry-level and affordable rechargeable versions," Screaming O Account Executive Conde Aumann said. "Charged Yoga is a convenient multi-use cock ring that's so impressive in person that we decided to offer it as part of a free sample pack that includes the Charged Yoga with our best-selling Positive mega-rumbling vibe. We're so confident that customers will love this line that we're making it easy and hassle-free to get samples in their hands. Simply contact your preferred sales rep and we'll ship one out to you completely free."
Charged Yoga is equipped with a 100-percent waterproof Charged Vooom Bullet motor that emits more than 60 minutes of rumbling vibration and powers up fast with a USB cable (included). The product is available in gray, red and blue. Like all other Screaming O products, Charged Yoga is supported by free, full-color marketing materials and graphics upon request.
For more information contact Aumann at conde@thescreamingo.com.