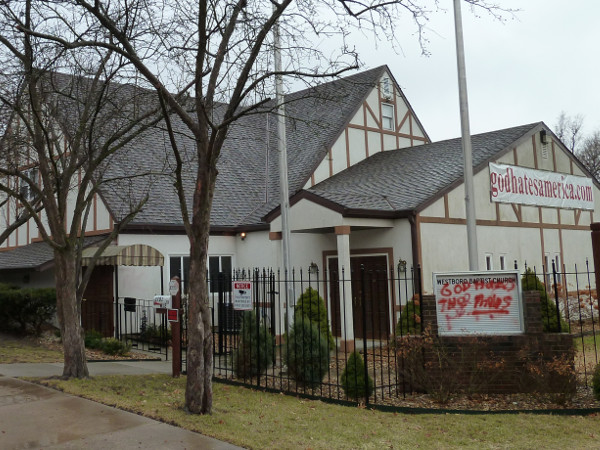 LAS VEGAS – When I saw the subject line of the email I received this morning, my heart nearly skipped a beat: "The Erotic Heritage Museum vs. The Westboro Baptist Church."
EHM vs. WBC, eh? This, I thought to myself, is either going to be one fascinating civil lawsuit, or the weirdest softball game ever conceived.
Sadly, however, the subject line represented neither of these potentially entertaining things. Instead, it signified what could be the start of a public relations battle akin to something I might expect to see in a movie directed by David Byrne.
If you're not familiar with Westboro Baptist Church, consider yourself fortunate. Among other things, your lack of familiarity with them means your brain hasn't been forced to attempt wrapping itself around the bizarre "logic" underpinning WBC's practice of picketing the funerals of American soldiers while carrying around signs sporting such inspirational bits of maniacal theology as "Thank God For Dead Soldiers" and "Soldiers Die God Laughs."
This is the main reason I was hoping EHM vs. WBC was going to be some sort of sporting event: I was really looking forward to the signage in the WBC supporters' section of the stands. I can picture them now, festooned with appropriately adjusted classic Westboro zingers like "God Hates Bunts" or "Thank the Lord For Beaned Batters."
At any rate, the reason for the EHM speaking up about WBC is the picketing itinerary for the latter has it poised to invade the former's home state in the days ahead.
"The gospel of Jesus Christ to be presented against the face of doomed American education in the city of Las Vegas," proclaims a flier published by WBC on its website.
"These faux instructors are the WORST because they know the children have no recourse or other source of information and they take full advantage of the opportunity to lie to the children," the flier states, presumably referring to educators in general, not just those at Nevada Rancho High School. "Each person in these children's lives were put there by God, and have a fiduciary duty to give them a proper education, not push their private satanic agenda."
I'll bet you didn't know a proper education includes making sure kids know encouraging them to "substantially invest their lives in the pursuit of athletics, rather than the pursuit of godliness" is not just sinful, but ALL-CAPS SINFUL.
I'm looking at you here, Ms. James. Clearly, you really ought to have pushed young LeBron to join the seminary.
At any rate, as I'm sure you'll be shocked to hear, the folks who run the Erotic Heritage Museum don't quite see eye to plank-in-eye with the sign-wavers over at WBC.
"I can say with pretty much 100-percent certainty that if the WBC is against it, the EHM and most of the thousands who come through our doors yearly are for it, whatever 'it' happens to be," Dr. Victoria Hartmann, the museum's executive director, said in a statement issued this week. "Although I champion Mr. Phelps and his organization's right to express their opinion, I can as easily declare that when a group like this slips into town puking their hatred for sexual freedom and sex-positive culture, women's reproductive rights, LGBTIQAA+ rights and sexual free speech, the EHM will be just as vocal in how positively we feel about these issues."
If I were Hartmann, I don't think I'd be so fast to declare myself "pretty much 100-percent" certain on this point, at least until she's thoroughly read WBC's statements about its various positions.
For instance, given the occasional tension between artists and musicians, is Hartmann sure she's in complete disagreement with the notion schools like Julliard serve to make their students "good for absolutely nothing except full, final and awful destruction?"
And who among us can reasonably disagree with the statement "This generation of lawyers have fully committed their talents to the promotion of every form of filthy living — adultery, sodomy and gender confusion — through aggressive action in all three branches of government?" Well, if that's not simple common sense, I don't know what is.
Wait, no — I do know what common sense is, and (obviously) it looks a lot like showing up at the funeral of a combat veteran to loudly proclaim: "You've turned America over to the fags. Now God is your enemy here and on foreign lands!"
As both the EHM and WBC are fond of reminding us, we live in a country where free speech is a cherished principle. Every so often though, it's also worth remembering we have a corresponding right to not listen as utter fucking morons spew their nonsense into the air.
If you live in Nevada, I implore you, do not go out and counter-protest WBC. Instead, give their hateful buffoonery all the attention it deserves — which is to say absolutely no attention at all.
Can I get an amen?
Image: Westboro Baptist Church, © Americasroof.