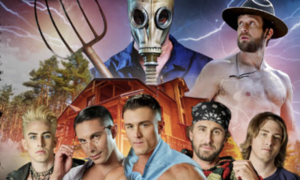 SAN FRANCISCO — NakedSword, The Netflix of Gay Porn, is happy to announce their 2017 Grabby Award nominations for their NakedSword Originals' production arm, producing premium quality series released exclusively on NakedSword.com. This year, with 27 nominations, NakedSword joins the ranks of the most nominated studios of 2017.
SCARED STIFF is one of the two most nominated movies by any studio in 2017 garnering a whopping 13 nominations including Best Movie, Best Director (Chi Chi LaRue), Best Screenplay, Best Art Direction, Best Actor (Falcon's Ryan Rose), and Best Videography (mr. Pam) amongst many others.
NakedSword Director mr. Pam is also nominated for Best Videography for the hit NakedSword/Rock Candy production SECRETS & LIES which was nominated for 10 Grabbys including: Best Movie, Best Director ( mr. Pam), Best Actor (Trenton Ducati and Rocco Steele) amongst the many others.
NakedSword also is nominated as Best Video Company Site for NakedSword.com. See full list below.
As per tradition, NakedSword will be on hand at the Grabbys in Chicago on May 27th, 2017 to celebrate with the gay adult industry. President of Falcon Studio Group and The NakedSword Network, Tim Valenti says, "It never gets old being recognized by the Grabbys for all the work we put into making these features and series that NakedSword Original's has become known for." He goes on to say, "I have to say a HUGE THANK YOU to both mr. Pam and Chi Chi LaRue for making two of the best movies in the industry last year, SECRETS & LIES and SCARED STIFF for NakedSword Originals. I'm very proud of the movies we put out as a whole last year and we thank the Grabbys for all the love!"
NakedSword recently swept the 2016 XBIZ Awards taking home Gay Studio of the Year (NakedSword Originals), Best Gay Director (mr. Pam), Gay Web Company of the Year (NakedSword.com) and VOD Company of the Year (NakedSword.com) in addition to wins at the Cybersocket Awards including Best New Company ( NakedSword FIlmWorks) and Best VOD site
(NakedSword.com).
Watch and see if NakedSword repeats their winning streak in Chicago this May at the 2017 Grabbys!
NAKEDSWORD FULL NOMINATIONS BELOW:
BEST MOVIE OR WEB SERIES:
Secrets & Lies, NakedSword Originals/Rock Candy
Scared Stiff, NakedSword Originals
BEST VIDEO COMPANY SITE:
NakedSword.com
BEST ACTOR:
Trenton Ducati, Secrets & Lies – NakedSword Originals/Rock Candy
Falcon Exclusive Ryan Rose, Scared Stiff – NakedSword Originals
Rocco Steele, Secrets & Lies – NakedSword Originals/Rock Candy
BEST SUPPORTING ACTOR:
Colton Grey, Secrets & Lies, NakedSword/Rock Candy
Jack Hunter, Scared Stiff, NakedSword Originals
Seth Santoro, Scared Stiff, NakedSword Originals
Wesley Woods, Scared Stiff, NakedSword Originals
BEST DUO:
Jack Hunter & Seth Santoro, Scared Stiff, NakedSword Originals
Trenton Ducati & Colton Grey, Secrets & Lies, NakedSword Originals/Rock Candy
BEST 3 WAY:
Brian Bonds, Trenton Ducati & Brandon Wilde, Secrets & Lies, NakedSword/Rock Candy
BEST GROUP:
Ryan Rose, Seth Santoro, Jack Hunter, Tom Faulk, Wesley Woods & Colby Keller, Scared Stiff, NakedSword Originals
BEST ALL-SEX MOVIE:
Sexperiment, NakedSword Originals
HOTTEST RIMMING:
Tom Faulk, Jack Hunter, Colby Keller, Ryan Rose, Seth Santoro & Wesley Woods, Scared Stiff, NakedSword Originals
Rocco Steele & JD Phoenix, Sexperiment, NakedSword Originals
HOTTEST FLIP:
Jack Hunter and Seth Santoro, Scared Stiff, NakedSword Originals
Colton Grey & Jacob Peterson, Secrets & Lies, NakedSword/Rock Candy
BEST SCREENPLAY:
Jackie Beat, Scared Stiff, NakedSword Originals
Jack Shamama, Secrets & Lies, NakedSword Originals
BEST DIRECTOR:
mr. Pam, Secrets & Lies, NakedSword Originals/Rock Candy
Chi Chi LaRue, Scared Stiff, NakedSword Originals
BEST VIDEOGRAPHY:
mr. Pam, Scared Stiff, NakedSword Originals
mr. Pam, Secrets & Lies, NakedSword Originals/Rock Candy
BEST PHOTOGRAPHER:
mr. Pam
BEST ART DIRECTION:
Scared Stiff, NakedSword Originals