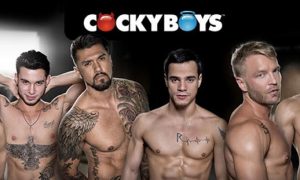 New York, NY- Today, given the recent Grabby's nominations this week, CockyBoys owner and Director Jake Jaxson would like to congratulate the industry for all the great work being produced this year from other studios, directors and performers.
Celebrating 10 years in the business this year, CockyBoys is especially proud to once again have their work recognized by the Grabby's team of Mark and Staci. It was only a short 5 years ago that CockyBoys attended their first Grabby's show with the success of their first big feature release, PROJECT GOGO BOY which took home Movie and Director of the Year, amongst others.
This year CockyBoys has received dozen's of nominations between the studio, their movies and models including nominations in top categories such as Best Movie (One Erection), Best Director (Jake Jaxson), Performer of the Year (CockyBoy Exclusive Levi Karter), Best Actor (Liam Riley, One Erection), Fan Favorite Movie (JUST LOVE) and dozens more…
Owner and Director Jake Jaxson says of the upcoming event, "This has become a yearly event that we look forward to, being able to come together and celebrate the Art of Porn with our fellow producers, performers, fans, and friends." He goes on to say, "This year I am particularly excited by our nominations, because the work being recognize is the result of a series of wonderful collaborations with a some of the best in the business. More often than not cynicism, small differences, and rivalries rule the day, but being able to make and co-direct ONE ERECTION: The Un-making of a Boy Band, with Chi Chi LaRue has been a highlight both personally and professionally for our studio — which goes to show that good things come when we choose to work together as an industry."
Jaxson is also thrilled that CockyBoys' EroticDoc JUST LOVE was nominated for several awards, including the SteamWorks Fan Favorite Award, he says, "Once again, this was a beautiful collaboration with Boomer, Ricky, Carter, Jimmy and Levi. Their opening up, sharing, and being truly "naked" helped create a project that is dear to my heart, as it based on the purpose and mission of our company — to help remove shame from sex, by connecting to and better understanding our sexual self. I am so thankful to of the proud men I worked with everyday and to my loving husband and co-director, RJ Sebastian, who inspires me and our team everyday to produce the best we can."
This year, sadly, CockyBoys will not be doing the annual Cocky Con, as they have the last few years. However they will, once again, be hosting a brunch for friends and fans, and will have more information on that in the coming weeks! While there will be no Cocky Con this year in Chicago, CockyBoys are planning a series of events, parties and appearances to celebrate the 10 year anniversary during NYC Gay Pride in June, as well as, some other special events and appearances around the country. These events will be announced in the coming weeks as well.
Jaxson closes by saying, "We have always enjoyed and felt blessed by the community of friends, members and fans that we have gotten to know over the years, because without you, none of what we do would be possible, and we can't thank y'all enough. Let's all have a GOOD year."
COCKYBOYS' 2017 GRABBY NOMINATIONS:
TWINK PERFORMER
Calvin Banks
Liam Riley
BEST NEWCOMER
Christian Bay
Carter Dane
Taylor Reign
Arad Win Win
BEST ACTOR
Liam Riley – One Erection – Cockyboys
BEST SCREENPLAY
Jake Jaxson – One Erection – Cockyboys
BEST VERSATILE PERFORMER
Tayte Hanson
Levi Karter
HOTTEST TOP
Arad Win Win
Boomer Banks
HOTTEST BOTTOM
Carter Dane
Allen King
Liam Riley
Tegan Zayne
HOTTEST COCK
Boomer Banks
Calvin Banks
Tayte Hanson
Allen King
BEST VIDEOGRAPHY
RJ Sebastian – One Erection – Cockyboys
BEST GROUP
Levi Karter, Tayte Hanson, Allen King, Liam Riley, Kody Stewart , Colby Keller – One Erection – Cockyboys
BEST DUO
Levi Karter & Allen King – One Erection – Cockyboys
Tayte Hanson & Jason Maddox – One Erection – Cockyboys
PERFORMER OF THE YEAR
Levi Karter
HOTTEST RIMMING
Boomer Banks & Ricky Roman – Just Love – Cockyboys
Tayte Hanson & Jason Maddox – One Erection – Cockyboys
BEST DIRECTOR
Jake Jaxson & ChiChi LaRue – One Erection – Cockyboys
BEST SUPPORTING ACTOR
Tayte Hanson – One Erection – Cockyboys
Levi Karter – One Erection – Cockyboys
Gabriel Clark & Wesley Woods – Let Them Eat Cake – Cockyboys
BEST ART DIRECTION
One Erection – Cockyboys
BEST 3 WAY
Carter Dane, Jimmy Durano & Levi Karter – Just Love – Cockyboys
Trenton Ducati, Lukas Grande & Rikk York – One Erection – Cockyboys
BEST MOVIE OR WEB SERIES
One Erection – Cockyboys
BEST VIDEO COMPANY SITE
CockyBoys.com
STEAMWORKS FAN FAVORITE MOVIE
Just Love – Cockyboys