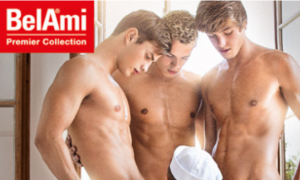 Prague, CZ- BelAmi has been noticeably absent from the Grabbys nominations in recent years due to the studio's turn to condom free content. This year at the 2017 awards show the Grabbys have decided to celebrate the work of studios that produce condom free movies and scenes. Because of the change in policy, BelAmi, their exclusives, and movies have been nominated for a total of 21 awards at the show taking place in Chicago May 27th, 2017.
BelAmi's blockbuster LAST SUMMER IN GREECE has been nominated for 6 awards including Best Movie, Best Actor (Hoyt Kogan), Best Screenplay, Best Director (Marty Stevens), Best Videography and Best Group scene. See a full list of the nominations below.
Additionally, BelAmiOnline is nominated as Best Video Company Site, an award it has taken home on more than one occasion at past Grabbys.
BelAmi's Publicist says of the nominations, "We would like to extend our appreciation to the Grabbys for acknowledging condom free material this year as it is no longer a niche category. BelAmi continues to uphold the strictest safety measures in place to ensure the safety of our 80 exclusive performers. We are pleased that the work and resources we put into making big budget movies in exotic locations is being recognized this year at the 2017 Grabbys in Chicago!"
BelAmi's 2017 Grabbys Nominations
Best Movie or Web Series:
Last Summer In Greece, BelAmi
Best Video Company Site:
BelAmiOnline.com
Fan Favorite Movie:
All For One, Kinky Angels
Offensively Large, BelAmi.
Best Actor:
Hoyt Kogan- Last Summer in Greece.
Best ScreenPlay:
Last Summer in Greece, BelAmi
Best Vers Performer:
Helmut Huxley, Hoyt Kogan
Hottest Top:
Hoyt Kogan
Hottest Bottom:
Helmut Huxley
Hottest Cock:
Helmut Huxley
Best Videography:
Luke Hamill, Johan Paulik and Mel Roberts, Last Summer in Greece.
Best Group Scene:
Jerome, Marcel, Adam, Robin, Brian, Roald and Marc for Last Summer in Greece.
Best Duo Scene:
Joel Birkin and Jack Harrer in Offensively Large.
Best All-Sex Movie:
3 Ways 3, BelAmi
Performer of the Year:
Helmut Huxley
Hottest Rimming Scene:
Helmut Huxley & Kevin Warhol, ALL FOR ONE, Kinky Angels and
Joel Birkin, Jack Harrer, & Claude Sorel – Offensively Large – BelAmi
Best Director:
Marty Stevens Last Summer in Greece
Best Supporting Actor:
Jack Harrer, Offensively Large, BelAmi
Best 3 Way Scene:
Peter Annaud, Dylan Maguire and Jack Harrer- 3 Ways 3
Jerome Exupery, Helmut Huxley and Hoyt Kogan- KinkyAngels