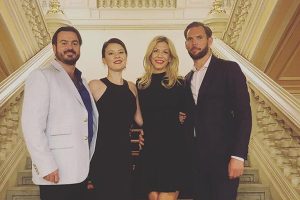 The inaugural "intimate.io Award for Social Impact" has been presented to Bella French, co-founder and CEO of ManyVids, at the 8th Annual YNOT Awards in Prague, Czech Republic. The award celebrates people and organizations within the adult industry who are defining the global standard for sexual empowerment through education, inclusivity and wellbeing.
French was chosen as the winner in recognition of her efforts to empower performers and reduce stigmatization against the industry. This includes various initiatives implemented via the ManyVids platform.
"This is such a tremendous honor," French said, who went on to thank the ManyVids performers. "To achieve meaningful impact, it's impossible to do it alone. They are a true inspiration to all of us," she continued.
ManyVids recently launched a suicide prevention initiative in memory of performer August Ames, who tragically took her own life in December 2017. The MV Hotline provides a confidential counseling service, free to adult performers and content creators.
The MV Hotline number is 1-888-350-3051.
"The extreme stigmatization felt by the adult industry often overshadows the positive efforts of many forward-thinking and compassionate social entrepreneurs," said Leah Callon-Butler, co-founder and Chief Impact Officer at intimate.io.
"The 'intimate.io Award for Social Impact' is an opportunity to provide formal recognition to the industry leaders who are taking care of our community, shining a light on sex-positivity and raising the bar for ethical practice worldwide," Callon-Butler continued.
"We are so proud to be the platform chosen by intimate.io to present this important new award," said Jay Kopita, host and producer of the YNOT Awards, an annual event to recognize excellence in the adult entertainment industry specifically in the business to business space.
"We started the YNOT Awards as a way to show our appreciation to the people who are leading the way in the Adult Industry and setting the benchmark for industry best practice," said Kopita.