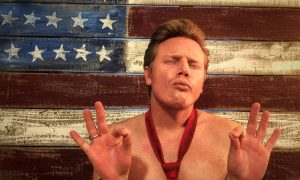 Cyberspace – Whether you love him, or you hate him — Trump now has a 27 year old doppleganger, who does PORN for xHamster.
Ready for this one? This is the culmination of the xHamster Trump campaign.
source: http://www.vocativ.com/412514/new-porn-donald-trump-john-brutal/
—————————————————–
A Dialysis Worker from Minnesota is Now the Trump of Porn
– "Help me I can't breathe!" Those may be your words after you see this 27 year old Trump lookalike who was voted the Trump of Porn in a xHamster Contest
– Fittingly, John "Brutal" is a 27 year old dialysis worker from Minnesota who is being flown out to Los Angeles,California to perform in "on camera sex" as the Donald Trump of Porn
– "My intentions at first were just for pure humor. I'm kind of a jokester," he said of his decision to audition. "Now I'm kind of like the dog that got the car. Now I have it and I'm like, 'Shit!'"
– Brutal had dressed up for Halloween as Trump and mastered his impression so he gave the audition a shot: he sent a few Snapchat videos with a friend dressed as Hillary Clinton and when the voting opened, he quickly rose to the top.
– Brutal always wanted to be an actor, but never thought it would be "starring in porn" — he remains casual about the whole thing, stating: "There are some nerves to that, but I have pretty good confidence. If I fail, then I got a free trip out to California and it was fun." He added, "If you've ever been to the strip club and you get a boner when some chick's dancing on you, it's kind of the same thing."
– Brutal is not worried about losing his job, and his parents, both Republican, have not had the news broken to them yet. He also wrote in a buddy's name when he voted, refusing to vote for neither Clinton or Trump.
– Brutal sees entrepreneurship in his future, as he's not sure the amount of money he will accumulate from xHamster, but hopes to start his own business from taking advantage of the opportunity to be the Trump of Porn
– One of his childhood best friends, who declined to give his name, said Brutal has "always been the class clown, the total hilarious one in the group," so it wasn't too surprising that he initially auditioned. "And here we are months later, like, 'wow, you're going to do porn," he said. As for watching his best friend in porn, he said, "I'd like to be on set while he films it, are you kidding me? This is crazy," he said. "This is a fun car fire to watch."