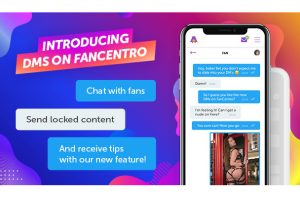 FanCentro is pleased to announce the launch of its new DM feature. The social media monetization platform now lets influencers and fans correspond via DM, where messages and content can be shared from directly within their FanCentro account.
Influencers can now chat one-on-one with both active and inactive subscribers, sharing content, videos, news, updates and more via individual or bulk direct messages. FanCentro influencers can send locked content in the form of photos and videos which fans can pay to view. Fans can also send tips to influencers easily – all from within DMs.
FanCentro CEO Stan Fiskin said that DMs will create extra revenue opportunities for influencers to use alongside the FanCentro Feed.
"This new technology provides an exciting new way for models to make money with FanCentro," Fiskin said. "At a time when many influencers in the adult industry are being banned by social networks' discriminatory regulations, it's more important than ever for us to provide safe and secure ways to monetize a fanbase."
FanCentro, which is currently running an SOS Australia campaign to raise money for those affected by the bushfires in Australia, has dedicated itself to helping bring influencers and their fans closer together since its launch in 2017. The new DM feature adds to FanCentro's suite of powerful monetization tools, including the FanCentro Feed, where influencers can share content directly with their fans.
Influencers and fans can already start sliding into each other's DMs from their FanCentro account. For tips on how best to use and monetize this new feature, visit FanCentro's blog post now.