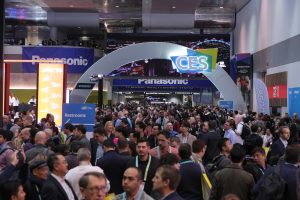 CES—the Consumer Electronics Show—is one of the most respected showcases for tech gadgets in the world, and has been so for decades. The gadgetry festival, which hits Las Vegas every mid-January, originally spawned the porn industry's biggest even—the AVN Awards and accompanying expo.
In days of yore, CES hosted an adult video section that, over time, evolved into its own show. The two parted ways, and since then, CES has gotten steadily more prudish until last year, when CES's organizing body, the CTA, bestowed an innovation award on a "robotic massager"—only to revoke it when they realized the massager was actually a sex toy.
When the company, Lora DiCarloa, called foul and accused the CTA of misogyny (male-oriented sexuality tech has been displayed at CES) CTA listened to the pushback. In response, they opened up the CES showfloor to sex tech in 2020—so long as their companies proved that their products were "innovative and include new or emerging tech."
The result? Sex tech companies hawking their wares at CES earlier this month. But their presence was apparently underwhelming to some.
"CES has welcomed sex tech this year. But blink and you might miss it. Most are tucked away in a far corner of one of Las Vegas's vast conference halls. They are being hosted under the umbrella of the Health and Wellness zone," wrote the BBC's Zoe Kleinman of the sex toys at the expo. "But while the booths are well away from those of the big brands that dominate the room, their presence still represents a significant shift."
Sex tech companies in attendance included Lioness, the makers of a smart vibrator that records data on users' arousal and orgasm patterns; Crave, the people behind vibrators that can be worn as jewelry; OhMiBod, a sex toy company that's been quietly and successfully showing at CES for a decade; and Lora DiCarlo, whose robotic massager caused the kerfuffle last year.
"At CES 2020, sex tech founders said their presence at the show this year is only the beginning. They want to spark a conversation about sexual wellness, underscoring that there's nothing shameful about people owning their pleasure," wrote CNET's Queenie Wong. And, she wrote, "When sex tech booths are dispersed throughout the health and wellness space instead of being stuck in one corner," their presence legitimizes their acceptance into the rest of the tech landscape.  
Lioness CEO Liz Klinger told Wong, "Pleasure is this missing puzzle piece in our overall understanding of our health and well-being that a lot of us are just ignoring…With this change [at CES], it's opening one of the floodgates." 
Still, OhMiBod founder Suki Dunham told Wong that "the industry could still have a stronger presence at CES. This year was just a baby step." Said Dunham, "'It's like pushing a rock up a hill" trying to normalize sex tech at CES.
CES 2020 show floor image by CES, courtesy of the Consumer Technology Association (CTA)