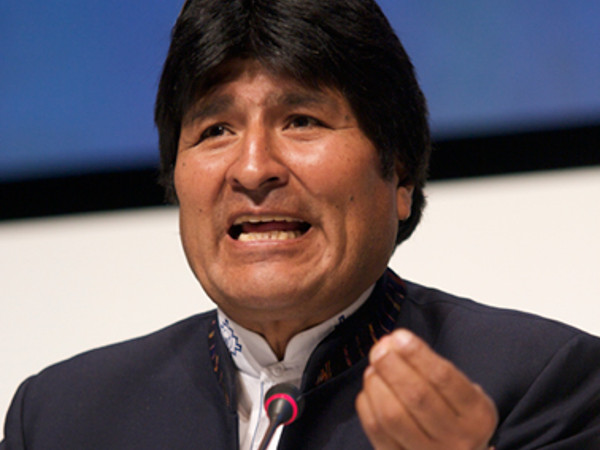 By Evo Morales
Special to YNOT
LA PAZ, Bolivia – Hello my American friends! My name is Evo Morales. While I'm quite famous, you may not recognize my name because your educational system is designed to produce obedient consumers and not informed adults.
I am the president of Bolivia, a country in South America. I would add that my country borders Chile, Brazil, Peru, Paraguay and Argentina, but I know this would not help because most of you probably can't find Lincoln, Nebraska, on a map, much less Lima, Peru.
Despite the way this post has started off, please believe I'm not here to insult your intellectual abilities. I'm here to improve them.
In my role as president of the world's 83rd most populous country, I'm often called upon to make important speeches as part of leading our nation's legislature and inspiring its citizens. Most recently, I gave a very well-received speech on the importance of eliminating term limits on the office of President in Bolivia.
Some people think I'm trying to set up a dictatorship by another name, but I only seek to get rid of term limits so I may continue my important work combating poverty, resisting the influence of American imperialists and delaying the inevitable discovery of various Swiss bank accounts into which I assure you I have not been siphoning funds embezzled from the Bolivian people over the past several years.
Since YNOT often publishes educational articles about pornography, I thought it would be valuable for you all to hear about the important place porno has in my public relations and communications efforts as a major world leader.
First and foremost, just like starting your important speech with a funny little joke, porn is a great way to ease the tension in a room. Just watch the effect hearing a woman moan and groan her way through a fantastic orgasm has on the audience during my presentation on term limits, for example.
While the dishonest global media has presented this "porn accident" as an embarrassing and humiliating episode for me, nothing could be further from the truth. In reality, this alleged mishap was a carefully choreographed event, an intentional moment of levity designed to win over a room full of people who are very skeptical of my motives.
Once the porno started playing out loud, nobody was thinking anymore about whether I might be asking to have term limits eliminated for nefarious purposes, like enriching myself through corruption — or even just staying in power to upset the American government, which thinks of me as the "Bolivian Hugo Chavez," even though I'm far more charming, much better looking and infinitely more humble, obviously.
Now, even my most skeptical critics can't imagine me as some kind of political mastermind manipulating the system. Instead, they think of me as a horny Bolivian jackass who can't stop watching porn long enough to give an important speech.
A lot of people also seem to think this incident will hurt my image in the eyes of women, because many women think if a man watches porno, then he must have no respect for women. Believe me when I tell you, though, if it's true there is nobody out there who has more respect for women than Donald Trump, then there's only one person out there who has more respect for women than Evo Morales.
Plus, just because maybe I like some videos in which women put large objects inside their rectums while being slapped, spit on and called putas sucias by some man with ugly tattoos doesn't make me a "misogynist." What made me a misogynist is the fact my mother always liked my sister Esther best, even though Esther always lied about having done her chores when the truth was she made me do them, instead.
So, next time you have a big speech to give, whether it is to your coworkers, an auditorium full of students or your parole officer, do what Evo does: Warm them up with a little porno, because what you say after that doesn't matter … at least until your final term expires.
Evo Morales is the current President of Bolivia, despite apparently not knowing when (or possibly how) to mute his smartphone.
Image © Simon Wedege.