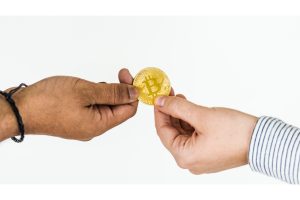 Since Satoshi Nakamoto introduced bitcoin ten years ago, the world has been in a rush to find a use for the digital currency. The 2017 price spike encouraged many that were on the fence to jump into the cryptocurrency pool, for better or worse.
One such new crypto-swimmer is CamSoda, who recently announced it will allow users to buy tokens with several cryptocurrencies. Along with bitcoin, CamSoda will also accept Ethereum, Bitcoin Cash, Litecoin, Tron, Monero and Zcash.
"Now that we are seeing more adoption of the technology, we decided to give our users what they've been asking us for some time," the Next Web reported CamSoda Vice President Daryn Parker stating.
Porn has a deep history with cryptocurrency. Per VogoV — an "already-functioning adult film studio based in Los Angeles that utilizes the blockchain technology in order to decentralize the decision making process on content production" — there were approximately 470 video sites, 50 webcam channels and 35 sex shops that accepted cryptocurrencies as of 2018, including PornHub. This follows a false start in 2014, which included the failed launch of the porn industry-centric Titcoin and years of indecision.
As traditional payment service providers usually consider porn to be high-risk, porn producers are forced to pay higher fees, deal with more disputed transaction and even be denied service. According to Forbes, porn producers can pay as much as 19 percent more than mainstream businesses in credit card fees. Cryptocurrencies allow producers a means to charge for subscription that has low or no fees, no possibilities of chargebacks – reducing the possibility of consumer fraud – and no possibility of rejection from the payment service.
More important, cryptocurrencies offer a level of anonymity that credit cards do not. There are no billing statements involved in cryptocurrency transactions, meaning that the transaction is effectively private. For consumers afraid that a paper trail could reveal their porn habits, cryptocurrency offers a clear solution. As cryptocurrencies are traded using a pseudonym – basically, the cryptocurrency wallet's address – a transaction cannot be easily traced to an individual and, in the case of privacy coins like Monero and Zcash, may not be traceable under any circumstance.
Cryptocurrencies are also open-sourced, meaning that a company can easily start their own cryptocurrency. VogoV's OGO coin, SpankChain's BOOTY token, Vice Industry Token and WankCoin are all industry-based tokens designed to address the profit issue facing producers. The tokens can be purchased to allow access to several porn sites, hopefully mitigating the consumer impulse to not pay for online porn.
The slow adaption of cryptocurrency in porn reflects the steep learning curve of the technology and the instinct to use trusted, proven systems over new concepts.
"Many of the technologies that we take for granted in adult today took years before they gained mainstream acceptance," Alex Hawkins, vice president of xHamster, told Forbes. "When we think of the internet revolutionizing adult content, it actually took nearly a decade before it became the default point of consumption."
This is not the first time CamSoda dabbled in cryptocurrency. In 2017, CamSoda launched BitCast, which linked interactive sex toys to the performance of various cryptocurrencies, such as adjusting the intensity of a vibrator to correspond with bitcoin's current market position. In 2018, CamSoda launched CockBlockchain, which allows users to trade nudes for cryptocurrency.
Image via Pexels.