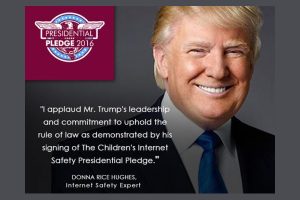 WASHINGTON – Back in July 2016, then-presidential candidate Donald Trump signed the Children's Internet Safety Presidential Pledge, which was cooked up by the anti-porn group Enough is Enough (EIE).
Shortly after The Donald signed the pledge, EIE put out a press release to make sure the event was marked with adequate fanfare.
"Mr. Trump's leadership and commitment to uphold the rule of law is demonstrated by his signing of the Children's Internet Safety Presidential Pledge," EIE President/CEO Donna Rice-Hughes said at the time.
After that press release and through the first two years of the Trump Administration, Donna and EIE have had noticeably less to say about the pledge, or about Trump's "leadership and commitment to uphold the rule of law" – until late last week, that is.
Now, 24 months into the Trump Administration's existence as one of the stranger reality TV shows ever aired, EIE has piped up about the pledge again, to call on a prospective employee of the Administration to fulfill it on behalf of his would-be boss.
Noting that it has been a while since Trump signed the pledge "promising to appoint an Attorney General to aggressively enforce" federal obscenity laws – and, in effect, observing that Trump's first appointee to the position didn't do so – the EIE "asks Attorney General nominee William P. Barr to uphold these vital commitments to protect our nation's children."
"(The U.S.) being identified as the top producer, distributor and exporter of prosecutable obscene pornography because past Administrations (except for AG Ashcroft) have failed to uphold the obscenity laws and have given a free pass to the multi-billion-dollar porn industry, is unacceptable," Hughes said in the release calling on Barr to fulfill his future boss's promise. "This has led to a pandemic of extreme and deviant content which has become increasingly mainstream, giving our youth free and easy access to harmful content that is wrecking their innocent lives."
"There is a misconception that obscenity is protected by the First Amendment," added Hughes. "It is not!"
Hughes is right, of course – obscenity is not protected by the First Amendment. But as Hughes and her anti-porn ilk are less apt to point out, obscenity also isn't something one can simply declare an entire class of entertainment to be, as though there's no ambiguity involved. Whether any individual work is obscene is a question of fact to be determined case-by-case, by a trier of fact – typically a jury, or a judge in the case of a bench trial.
To hear Hughes tell it, the only thing standing between America and the end of the obscenity plague she so reviles is Attorney General willing to "enforce all the laws on the books" – but, just like declaring any given work to be illegally obscene, the truth is a bit more complicated than that.
As Free Speech Coalition Board Chair Jeffrey Douglas noted in a recent interview with YNOT, "there has always been resistance within the Justice Department to obscenity prosecutions."
"There is almost no chance that there will be significant resources assigned to obscenity prosecutions," Douglas added. "Republican AGs always assure right wing Congressmen that they will aggressively pursue obscenity cases, but no one wants to work on them, not only DOJ lawyers, but FBI agents hate to work the cases too. Limited resources require Feds to refer serious cases to state prosecutors."
Douglas also noted that some of the more recent high-profile obscenity prosecutions didn't exactly pan out well for the prosecutors who handled them – and that poor outcome was not lost on prosecutors who watched it all play out.
"Recall that Brent Ward was partially responsible for the firing of the Arizona U.S. Attorney Paul Charlton by G.W. Bush in 2006 because of his lack of enthusiasm for the JM prosecution," Douglas said. Every senior AUSA (Assistant U.S. Attorney) remembers that debacle and is still resentful."
With Barr expected to win confirmation, it's no surprise to have various people and special interest groups piping up to call for him to take specific actions, whether it's the aggressive enforcement of obscenity laws sought by the EIE, investigations into the conduct of certain leaders (and former leaders) of the FBI, or simply to live up to the traditional, quite multifaceted role of the Attorney General.
Of course, what Barr will or won't do as AG, assuming he's confirmed, is nothing more than a matter of conjecture at this point.  I'll add to it a little speculation of my own: If he's confirmed and we don't see aggressive enforcement of obscenity laws under Barr, we'll hear nothing about the subject from the EIE, unless or until Barr's eventual replacement comes along.
When that day arrives, the lack of action on Barr's part will, of course, be termed "unacceptable" and the whole pathetic cycle will repeat itself. Naturally, the renewed decency crusading by EIE will come complete with pontificating press releases, the repetition of axioms like "governments can't parent, and parents can't enforce the law," expressions of optimism that surely the next Attorney General will return the DOJ to it's late 80s/early 90s priorities – and plenty of fundraising, of course.