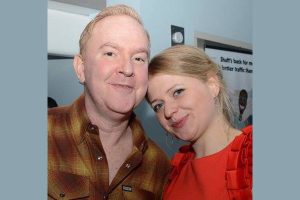 PRAGUE – With voting set to close on August 17, the YNOT Awards in Prague is pleased to announce Natalie Pannon, Business Development Manager for Mojohost, as co-host of the event, along with YNOT Group co-owner Jay Kopita.
"Back in 2013, YNOT was the first industry awards show I ever attended," Pannon said. "It was stunning from head to toe – from the splendid location to the artful entertainment. I still remember the admiration and awe it inspired, lasting for several weeks. It was one of the reasons I decided that this industry would be my new career path. Five years later, I am absolutely thrilled to be part of this esteemed industry event as a co-host."
Set for Saturday September 15 at the National House of Vinohrady in Prague, the event will honor winners in 36 categories, recognized by their adult industry colleagues for the excellence of their work and contributions to the industry. In addition to the winners of the various awards categories, YNOT will also enshrine two new members (one individual and one company) into the YNOT Hall of Fame.
"I am thrilled to know I'm going to have Natalie up on stage with me and have no doubt she will be instrumental in keeping things entertaining," Kopita said. "This year, I'll be bringing up a few other notable industry people as surprise guests to assist with presenting, speaking and general clowning around, all in the name of keeping things interesting and fun."
The opening entertainment for the show will feature the aptly-named Unique Quartet, a Czech string quartet which plays popular tunes, but renders them in an orchestral style which transforms and elevates the original music. Later in the evening, entertainment will be provided by magician Philipp Schwarz, who will amaze and transfix attendees with his sleight of hand skills and imaginative approach to his craft.
Of course, Kopita can be counted upon to provide some highly entertaining moments of his own –another benefit of being invited to co-host the event, according to Pannon.
"I am looking forward to the bright lights and professional challenge of keeping up with such a natural ringmaster," Pannon said. "Whether it's advertising, referring clients, writing articles or negotiating sponsorship, Jay is always reliable and always has your back. For the first time, I have the opportunity to work with him in his entertainer hat and I'm sure it will be an intriguing new experience. I'm confident co-hosting the YNOT Awards will be a ton of fun."
Kopita said that while the paid seating for the show is mostly sold out, he still has four full dinner tables available for purchase – but anticipates they won't last long with the show approaching quickly.
"The dinner tables offer an opportunity to enjoy the show from the main floor and to take advantage of the outstanding buffet and open bar," Kopita said. "They're a great way to give a special treat to your employees, colleagues and friends and to really make the most of what promises to be an amazing night."
Those without a reservation will be able to enjoy the show from free seating in the balcony, where a cash bar will be available.
As in previous years, the eighth-annual YNOT Awards Prague will take place during The European Summit. Complimentary transportation will be provided to and from the awards show venue.
The YNOT Awards are made possible by the generous support of Platinum sponsor Rich Girls Studios, Diamond sponsor Best Studios, and Gold sponsors BongaCash, Studio 20, Paxum, Gaming Adult, Chaturbate, MojoHost, Flirt4Free, ImLive.com, XLoveCam, Night Prowl Studio, Jasmin, Zori, Intimate.io, Contour Studio, Terpon and CamToSee.
For more information on the YNOT Awards, visit YNOTAwards.com. To buy a table or inquire about sponsorship opportunities, contact Kopita via email jay@ynot.com, or on Skype at LAJConsulting.