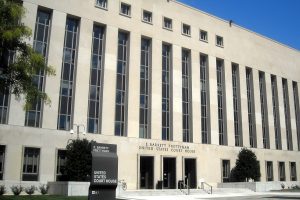 WASHINGTON, D.C. – When U.S. District Judge Richard Leon dismissed the plaintiffs' complaint in Woodhull Freedom Foundation v. Sessions, the lawsuit challenging the constitutionality of the Allow States and Victims to Fight Online Sex Trafficking Act ("FOSTA"), the core of his ruling was that the plaintiffs hadn't demonstrated any likelihood of being prosecuted under FOSTA, which fatally undermined their standing to sue.
With respect to the Woodhull Freedom Foundation itself, Leon wrote in his September decision: "All told, Woodhull has failed to meet its burden in persuading the Court that it faces any credible threat of prosecution. Nor has it identified any other cognizable injury in fact necessary for standing to purse this case."
Leon came to the same sort of conclusion regarding each of the plaintiffs in the case. Where Human Rights Watch was concerned for example, Leon held that "the record contains no indication that (Human Rights Watch), through its advocacy and educational work, intends to promote or facilitate specific acts of prostitution in violation of state or federal law. Without that mens rea, there is no credible threat of prosecution, and thus no standing to bring this pre-enforcement challenge."
Having found the plaintiffs lacked standing to sue, Leon also dismissed their motion for a preliminary injunction. What he didn't do was reach the merits of the plaintiffs' case – any of the reasons why the plaintiffs believe FOSTA to be unconstitutional.
In their appeal currently pending before the U.S. Court of Appeals for the District of Columbia Circuit, the Woodhull plaintiffs are asking the court to determine whether "the District Court erred in holding Appellants lack standing to challenge FOSTA's constitutionality" and whether the appellants "are likely to succeed on their constitutional challenges to FOSTA where there is a credible threat of prosecution, cessation and diminution of online speech, and loss of access to online platforms, thereby establishing irreparable harm due to loss of constitutional rights if FOSTA is not preliminarily enjoined."
In their opening appellate brief filed last week, the Woodhull plaintiffs assert the district court applied the wrong standard in evaluating their standing to file their claims – and in accepting the government's interpretation of FOSTA, as well.
"Under the proper standard, when addressing pre-enforcement challenges to recently enacted statutes that facially restrict expressive activity, courts must assume a credible threat of prosecution in the absence of compelling contrary evidence," the plaintiffs state in the brief. "Appellants need not await prosecution or face imminent civil liability before they may challenge a law regulating speech."
"Moreover, standing should have been adjudged according to the plaintiffs' interpretation of the statute, not that of the Government," the plaintiffs add. "The District Court failed to apply this standard, and more importantly, ignored entirely the fact that FOSTA authorizes enforcement not just by federal prosecutors, but also law enforcement officials in every state, and by countless numbers of civil litigants."
In their brief, the plaintiffs offer numerous examples of FOSTA's mere existence chilling speech, prior to any enforcement of the statute.
"Just two days after the Senate passed H.R. 1865, the online classified ad service Craigslist eliminated all personals ads, including non-sexual categories such as 'Missed Connections' and 'Strictly Platonic,'" the plaintiffs note, adding that in a public statement, Craigslist "explained that it censored these sections due to FOSTA."
The plaintiffs cite similar moves by Reddit, which they observe began removing subreddits related to sex shortly after FOSTA was passed and "warned the moderator of the r/sexworkers subreddit, which is a 'community forum for sex workers, clients, and even those unaffiliated with the industry to… ask questions and share resources,' that the forum could be shut down if administrators felt it infringed Reddit's post-FOSTA policy."
The brief also offers a rationale for why each of the plaintiffs believes they do have a reasonable fear of prosecution under FOSTA, despite the government and District Court's assertions to the contrary.
"FOSTA endangers Human Rights Watch's human rights advocacy because HRW seeks to make sex work safer, which has the concomitant effect of making it easier," the plaintiffs state in the brief. "HRW advocates on behalf of sex workers' rights and safety in the US and internationally, and by documenting abuses against sex workers with a goal of making sex work less dangerous. For example, HRW has warned sex workers about methods police use to discover and shut down sex work. HRW credibly fears these activities could be seen as violating FOSTA."
There's a great deal more to the Woodhull plaintiffs' arguments of course – especially when it comes to why they believe FOSTA is unconstitutional. But before any court reaches those arguments, the appellate court (and/or a higher court, as whatever the D.C. Circuit rules, it is likely to be appealed by the losing party) must first decide Judge Leon erred back in September when he ruled the plaintiffs lack standing.
The government has not yet filed its response to the Woodhull plaintiffs' opening brief and oral argument hasn't been scheduled. YNOT will continue to follow the case and provide updates as new developments occur.
Photo of E. Barrett Prettyman Federal Courthouse by AgnosticPreachersKid via Attribution-ShareAlike 3.0 Unported License. (Image has been resized and cropped.)