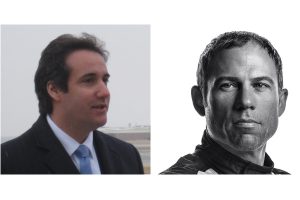 LOS ANGELES – As I see it, it just wouldn't be Friday without another development in the ongoing case of Stormy v. Trump v. Trump's Former Lawyer v. Stormy's Current Lawyer v. Stormy's Former Lawyer, or whatever the case is called. Thankfully, we got one, so the weekend can now proceed as planned.
The latest news is that Michael Cohen, Trump's former attorney, has filed an application for a restraining order against Michael Avenatti, Stormy's current lawyer.
This is not to be confused with Avenatti filing a lawsuit against Stormy's former lawyer, Keith Davidson, or conflated with Davidson filing a counterclaim for defamation against Stephanie Clifford, who is also Stormy Daniels. Nor is it to be confused with a crossclaim Davidson filed against Cohen, who – so far as I'm aware – is not also Alan Dershowitz.
Anyway, in the application for the restraining order, Cohen's lawyer, whose name thankfully doesn't matter because somehow nobody involved has sued him (not yet, at least), argues that "Ms. Avenatti's actions are mainly driven by his seemingly unquenchable thirst for publicity."
I'm guessing he meant to write "Mr." Avenatti – unless this is Cohen's lawyer's idea of a sick-but-subtle legal brief-burn.
"Avenatti's publicity tour, wherein he routinely denigrates Mr. Cohen with claims of alleged criminal conduct, is contrary to the California Rules of Professional Conduct, likely to result in Mr. Cohen being deprived of his right to a fair trial, and threatens to turn what should be a solemn Federal Court proceeding into a media circus," the application continues.
I think we can all understand why Cohen objects to Avenatti's actions: When it comes to circuses, the media variety is by far the lamest. In the media circus, there are no lion tamers, way too many clowns and the popcorn provided is always stale and over-buttered.
To buttress his argument, Cohen's lawyer notes that Judge Kimba Wood, the poor woman stuck with handling Cohen's criminal case in New York, "already came to this conclusion" about Avenatti when he tried to get himself admitted in that case, too.
"If you participate here, you would not be able to declare your opinion as to Mr. Cohen's guilt, which you did; you would not be able to give publicity to documents that are not public," Wood told Avenatti during a recent hearing in New York. "It would change your conduct. That is my only possible role in doing what Mr. Cohen's lawyers want, which is, to essentially stop in its tracks your publicity tour on TV and elsewhere."
In the application, Cohen's lawyer also points out Avenatti has made just a few appearances on television in which he discussed the facts of all the various cases involved here.
"Since Plaintiff filed this action on March 6, 2018, Mr. Avenatti has made a minimum of 121 television appearances to discuss the facts and circumstances relating to this case," the application states – a tally which seems a little light to me. Admittedly, I haven't been keeping count, but offhand I'd estimate Avenatti has been on TV at least 121 times this morning alone.
"Mr. Avenatti has also issued at least 439 tweets relating to this case and/or Mr. Cohen to his 538,000 Twitter followers," the application continues. "During these appearances and tweets, Mr. Avenatti has repeatedly denigrated Mr. Cohen, predicted that Mr. Cohen would be indicted for bank fraud, wire fraud, campaign finance violations, and accused Mr. Cohen of hiring a 'thug' to allegedly threaten Ms. Clifford."
Just as a side note, it's so hard to find good, reliable thugs these days, isn't it? In the 80's, I swear burly thugs and intimidating goons practically grew on trees. Or maybe I just hung around the wrong crowd back then. But I digress.
Avenatti hasn't just leveraged the TV and internet platforms in his quest to remain in the public eye, the application for a restraining order observes; he's also shuffled more paper in the court's direction than anybody not repeatedly trying to marry his laptop.
"Mr. Avenatti, on behalf of Plaintiff, has also filed two additional separate lawsuits related to this action… to provide Mr. Avenatti further fuel for his ongoing publicity tour," the application states. "The reason Mr. Avenatti filed these two new cases, both of which violate this Court's Stay Order, is obvious… Finding himself on the losing end of this issue, there was no real reason for the press to speak to Mr. Avenatti for 90 days."
To be fair, I can think of some other reasons the press might have wanted to speak to Avenatti, but I suppose that's neither here nor there.
Only time will tell how Judge Otero, or Judge Wood, or Judge Judy, or whatever judge it is who's hearing Clifford v. Trump v. Cohen v. Avenatti v. Daniels v. Davidson v. Essential Consultants v. Roe v. Wade, will rule on this application.
One thing is already certain, however: Avenatti will be on TV again tonight.
Michael Cohen Image © IowaPolitics.com