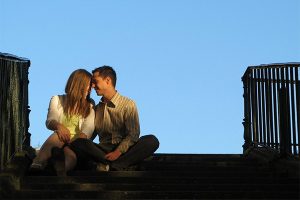 In news that should surprise no one, sex workers are experiencing discrimination from yet another app. Only this time, the discrimination is not occupational.
BuzzFeed News recently reported that sex workers are alleging dating/hookup app Tinder is shutting down their personal profiles. As a sex worker, using the app for work purposes is banned. Sex workers say that, even when they are only using Tinder for personal activities, their profiles get taken down.
The news/listicle outlet spoke to several sex workers about the issue.
Clementine, a 30-year-old sex worker based in Canada, said she recently had her account shut down after updating her bio to include her job as an escort. According to Clementine, she made it clear that she was not looking for clients on the app, but her account was still shut down.
"I've had Tinder for about four or five years on-and-off," BuzzFeed News reported Clementine saying. "I've been escorting as my full-time job, my main source of income anyway, for about eight or nine months. I changed my bio to put that was my job because I want to weed out people who wouldn't want to date me because of my job — a lot of insecure men feel like they can't date an escort."
"I tried to log in and got an error message of numbers," she said. "I looked it up on the internet and found it's the error message you get if you've violated the terms of use."
According to BuzzFeed News, Clementine contacted Tinder about the issue but ultimately only received stock responses – all pointing to the fact that she would not be able to open another account.
The news outlet also spoke to Fez Endalaust, a U.K.-based student and sex worker who also claims she had her Tinder profile shut down after mentioning her job in her bio.
"I'd been using it for maybe three years," Endalaust told BuzzFeed News, "and pretty much from the beginning I had 'sex worker' in my profile, alongside a list of other things — my course, my age, hobbies."
"I did go a few months without doing that but found it very hard to have to have the talk with every single person, and the reactions from people, getting angry, it was awful. And I did worry if we got to the date stage, meeting in person [before telling them], it could put my safety at risk," Endalaust continued.
Endalaust told BuzzFeed News that she was an "out" sex worker, so was able to be up front from the start — whereas others may want to keep their job hidden. She said she had the label in her bio for about two years but wasn't working from the app. But in July of 2017, Endalaust alleged that her account was down because it apparently had violated Tinder's terms and conditions.
According to BuzzFeed News, Tinder declined to answer their questions regarding whether or not sex workers had been kicked off the app due to SESTA/FOSTA. Instead, the company pointed to its community guidelines, which prohibit "promoting or advocating for commercial sexual services, human trafficking or other non-consensual sexual acts" – which makes no goddamn sense becasue that's not what these users were doing.
Yet again, sex worker discrimination rears its ugly head. In this case though, apparently, if you're a sex worker, you better not disclose your job if you want to date or hook up. It's better to just lie by omission – thanks, Tinder!
Image via Martin Boulanger.