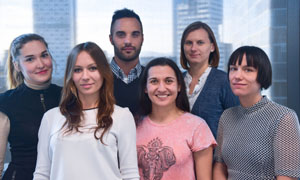 LIMASSOL, CYPRUS – To support its continued growth, TrafficStars has brought onboard a new wave of talent, as well as having promoted some of its staff internally. Peter Rabenseifner was recently appointed managing director of TrafficStars. Mark Asquith, previously part of our team of advertising account managers, was appointed head of marketing, and Anna Tormey, previously an ad compliance manager, was appointed business analytics lead.
Another 5 new members were recently welcomed to the Barcelona office: new Advertising Account Managers Viktoriya Ussova for the Russian market and Nicole Marie Orlando for English speaking countries, Support Manager Lucia Hanusova as well as Liliya Akhmetzyanova who joined the publishing team to support Russian accounts. In addition to this, Isaac Lorigados joined the human resources department to develop TrafficStars' existing workforce and help to source new talent for the teams in Montreal, Cyprus and Barcelona.
TrafficStars CEO, Geoffrey Bonnechere, said: "We're focused on bringing only top talent to join our team and to keep evolving to provide the best service to our clients – both publishers and advertisers. Aside from technology, people are our main focus, making sure that we have the best to represent TrafficStars and grow the relationships with our partners." TrafficStars also has a number of open vacancies for exciting positions in their Barcelona, Cyprus and Montreal offices. To check the current open vacancies, visit the TrafficStars Linkedin Page.
About TrafficStars
TrafficStars is a powerful, self-serve RTB ad network, buying and selling worldwide traffic with OpenRTB protocol capabilities. For more information, visit TrafficStars.com, register here or send an email to advertising@trafficstars.com.