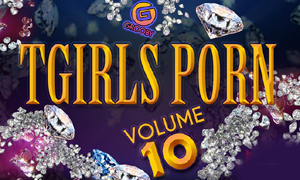 Los Angeles, CA – Grooby, the leader in trans erotica, is proud to announce their latest DVD, TGirls Porn Volume 10. The latest installment of the award-nominated series is directed by Omar Wax and can be purchased at GroobyDVD.com.
"This title comes at a great time as the series has been recently nominated in the adult industry," said Steven Grooby. "Volume 10 includes a diverse cast of heavy hitters and upcoming stars featured together."
TGirls Porn Volume 10 stars Alisia Rae, Hummingbird, Candy Licious, Nala, Chanel Santini, Annabelle Lane, Coco Dahlia, Jenny Flowers, Lana Solaire, and Talia Sonata paired off in five hardcore scenes. It can be purchased at GroobyDVD.com.
ABOUT GROOBY
Founded in 1996, Grooby is the leading producer of trans erotica. In addition to operating over 30 membership sites, the company produces nearly 50 DVDs a year and hosts the annual TEAs (Transgender Erotica Awards) held in Hollywood, CA.
In 2017, the company took over the editorial content for Transformation, the world's most popular transgender lifestyle magazine. For more information, visit Grooby.com.