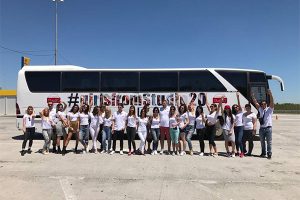 Bucharest, Romania— Studio 20 recently shared their 2018 First Quarter successes in revenue, award wins, the launch of their new app and expanded franchise locations.
The Studio20 family was awarded the Best Cam Studio from GFY, and #hunk[s]fromStudio20 Aamir Desire received international recognition as AVN's Favorite Cam Boy.
Studio executives reported sales increased 145 percent as compared to First Quarter, 2017 – due, in part, to the dedication of trainers, the marketing team and the Studio20 Excellence App.
The Studio20 Excellence App has become the go-to guide for Studio20 models. It's a complete guide consisting of training advice, marketing tips, roleplay ideas and resources and more. There is also a questionnaire after every course to models' test knowledge. The app also helps franchise owners, managers, trainers and models to better understand studio rules and regulations that helps the studios and models grow.
"With such a great start to the year already, we can only expect it to go up from here," enthused Studio20's PR Executive, Andra Chirnogeanu.
"We're looking forward for the award shows and industry summits that we'll be attending this year together with our best models. We're also starting some new campaigns and are involved more in the community's life. You need to keep an eye on the #girlsfromstudio20 and the #hunksfromstudio20 — this is going to be an amazing year," she added.
Right now, Studio20 cam studios are available in four countries: Romania, Colombia, the United States and Hungary, with sixteen locations. Two new locations opened this year already in Arad and Pitesti (both in Romania), with another two signed in Galati, Romania and Bogota, Colombia. Further, after seeing the earnings potential of their first male studio, Studio20 Men is also offering franchising opportunities.