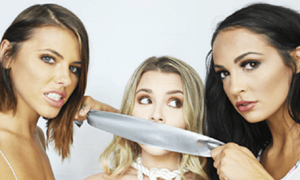 Fleshbot has a new 20 Questions interview with Sofi Ryan and they gave it an appropriate headline: "You So Need More Sofi In Your Life!"
Oh, don't we all!
Holly Kingstown caught up with Sofi and pummeled her with questions and the sexy starlet kept it cool and sexy. She reveals that she was always an exhibitionist and a horndog. She talks about being in Playboy before getting into porn and that she had never watched any XXX content before breaking into the industry.
"I was the fun, slutty, party girl who liked to get drunk, dance on pool tables and take my clothes off in front of everyone," Sofi said of her pre-porn life.
She says she doesn't have a favorite performer, that she is happy to work with anyone who can do a great scene and can bring the chemistry.
"As long as you can do a great scene and we have good chemistry, I am happy! I just like to have fun," she said. "I love any scene! Shooting is so much fun to me. I can really show my talents and fun side when I'm on set!"
Sofi finds that chemistry in a hot new threesome available in Retribution (All Her Luv), directed by Missa X and co-starring Adriana Chechik and Aubrey Sinclair.
In this tasty threeway, Aubrey and  Sarah are chatting on the phone – about boys, of course – when Sarah confesses that she loves to seduce men that she's not supposed to: She's fucked both of her sister's boyfriends, her algebra teacher and, she confesses with a whisper, "My deepest darkest secret, is to seduce my daddy!"
Aubrey sees this as a great opportunity for extortion. She and Sofi head over to Sophie's house to blackmail her into handing over her paychecks from Twisty Cone Diner. While Sophie is in the bathtub with her headphones on, Sofi slips into the suds with her as a distraction and then Aubrey covers Aubrey's mouth and pulls her out of the tub. They want her to get her on tape saying, "I'm Aubrey Sinclair, and I'm a boyfriend stealing slut," but instead a dirty threesome breaks out and it appears they all have some dirty secrets that they don't want getting around in school.
The HotMovies 2019 Porn Star Tournament voting today, Tuesday, March 19. Cast yours for Sofi by going to Hot Movies.