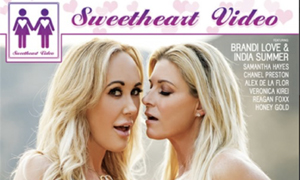 Brandi Love is a Sweetheart Video contract performer and it has been an advantageous relationship for everyone – especially fans.
The latest Sweetheart Video DVD starring Brandi is Girls Kissing Girls 23, which features her on the cover with India Summer, an irresistible meeting of two stunning blondes. In this all-doll feature, Brandi plays Karen, a famous writer whose Girls Kissing Girls gossip blog is among the most popular in NYC. They are currently eager to hear the latest on what's up between the governor's daughter (Alex De La Flor) and her teacher (Reagan Foxx), and to get the dirt on the secret love affair between Miss J (Veronica Kirei) and her assistant (Samantha Hayes) during a charity ball at The Ritz.
There's also the juicy tale about the young Mrs. Rochester (Honey Gold), who it seems has been cheating on her new husband with her personal stylist (Chanel Preston). No one is more intent on getting the inside scoop than Karen's girl (India Summer). Maybe someday she'll make the gossip on the blog, too….
Brandi loves her politics and this weekend she is headed into the thick of it, featuring Saturday night at Archibald's Gentlemen's Club. Don't miss this one-night-only show in Washington DC on March 23.
Also catch her next live Camsoda shows: Tuesday, March 19 at 9 pm and Friday, March 22 at 8:30 pm PST. Go to Cam Soda to catch all the action.
Archibald's Gentlemen's Club is located at 1520 K St NW, Washington, DC 20005. Call 202.638.5112 or visit here.
WATCH BRANDI:
Girls Kissing Girls 23