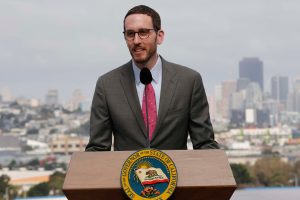 SAN FRANCISCO – Ever since it was first announced that California Sen. Scott Wiener was introducing legislation which would prevent sex workers from being arrested or charged when they step forward as either victims or witnesses of serious crimes, Wiener has been rightfully praised for his proposal.
Under the bill, SB 233, a person "who is reporting a crime of sexual assault, human trafficking, stalking, robbery, assault, kidnapping, threats, blackmail, extortion, burglary, or another violent crime shall not be arrested for a crime, including a misdemeanor violation of the California Uniform Controlled Substances Act… or a violation of subdivision (a) or (b) of Section 647 or of Section 372 or 653.22."
In Wiener's telling, the need for the bill is manifest and obvious.
"Right now, we know there are sex workers who are victimized or witness crimes and are scared to come forward because they think they are going to be arrested," Wiener said. "We want to create every incentive for sex workers to feel safe in reporting crimes."
Importantly, the new bill also contains language which would prohibit law enforcement from using the mere possession of condoms as evidence of someone being engaged in prostitution.
"Possession of condoms in any amount shall not, in and of itself, be probable cause for arrest for a crime, including a violation of subdivision (a) or (b) of Section 647 or of Section 372 or 653.22," the bill states.
"There are police departments that will arrest and charge sex workers based on having, say, five condoms," Wiener said. "The last thing we should be doing is signaling to sex workers that if you carry condoms to avoid HIV, that's going to get you arrested and prosecuted."
Sex workers and their advocates strongly agree with Wiener, unsurprisingly.
"This legislation has been a long time coming," said Maxine Doogan of the Erotic Service Providers Legal, Education and Research Project ("ESPLERP") in a press release issued earlier this week. "Especially in light of the recent disaster for the sex trade workers in the wake of the passing of Fight Online Sex Trafficking Act (FOSTA), passed in April of 2018, which leaves so many vulnerable. So, we applaud Senator Scott Wiener for taking this public safety issue seriously, because if they get away with victimizing us, it'll embolden them to target any member of the public."
Prosecutors already have the option not to file charges against sex workers who have reported crimes, of course, as part of the expansive leeway afforded to prosecutors under the principle of "prosecutorial discretion" – a power which is virtually unfettered under American law.
In a more reasonable world, Wiener's bill would be unnecessary, because prosecutors far and wide would prioritize the prosecution of violent crimes and sex crimes over the punishment of sex workers. Sex workers can't count on prosecutors setting their priorities thus, however, making Wiener's bill both sadly necessary and long overdue.
The problem of sex worker safety and protection isn't limited to ensuring sex workers aren't charged with crimes of their own while reporting crimes against them, or crimes they have witnessed, of course. There's also a serious problem of law enforcement and prosecutors not making arrests or initiating cases against criminals who victimize sex workers, as well.
In its press release linked to above, ESPLERP recounts the harrowing and horrid tales of two sex workers who were sexually assaulted, duly reported the crimes against them – and then experienced the horror of our flawed justice system.
The issue of complaints filed by sex workers not being taken seriously by law enforcement and/or not being acted upon by prosecutors even when an arrest of a suspect has been made is nothing new, of course. Plus, in addition to any individual prosecutor's resistance to prosecute sex crimes when the victim is a sex worker, there's often resistance on the part of the victim, out of fear that being a sex worker will prejudice the jury.
In a 2002 report prepared for the U.S. Dept. of Justice, researchers from the Dept. of Criminal Justice at the University of Nebraska at Omaha looked into what they called "blame and believability factors" of victims and how those factors influence the decisions made by police and prosecutors handling alleged sex crimes.
In interviewing prosecutors about their handling of sexual assault cases, the researchers were told by several interviewees that fear of public exposure was a major factor for victims – especially when the victim is a sex worker.
"We're asking someone who has been violated and probably feels very humiliated to describe the attack in great detail to jurors who are complete strangers," the unidentified prosecutor said. "I don't find it all that surprising that some women don't want to put themselves through that. In addition, there are situations involving prostitutes or drug addicts or homeless women who are reluctant to proceed with the case because they know that their lifestyle is a strike against them and they suspect that the jury won't believe them."
Wiener's bill, should it pass, is a good start toward protecting sex workers from adding to their own troubles simply by reporting a crime they've suffered or witnessed. But there's much more work to be done if we're to address the underlying issues effectively.
I believe progress has been made in recent years in terms of destigmatizing sex work – but we still have a long way to go.
I sincerely hope that, in the years since the DOJ report I've quoted above was authored, sex workers who have been victimized have begun to feel less reticent to come forward and less likely to feel they will be judged unworthy of the law's protection if they do. But my sense is until we have laws and policies across the country like the one Wiener has proposed in California, a great many victims of crime are going unheard, whether due to a prosecutor's decision, or their own.