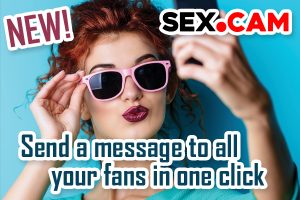 Sex.Cam has announced a new feature on its platform called "Messages to My Fans," through which cam performers can send messages and photos to their customers and admirers.
"Who are your fans? They are customers who have already made a private show with you, all your VIP subscribers and all members of the site who have added you to their favorites," the company explained in a statement announcing the launch of the new feature.
Sex.Cam also offered a variety of examples of how performers can use the new messaging function, not just to promote their appearances and shows, but to establish a connection with fans that makes them feel closer to the model – and thereby, possibly more willing to spend, as well.
"You can send them messages with your mood of the day, your next connection to the site, and an invitation to come in your private room for a private show," the company said. "You can also choose to send a personal message to a fan you particularly want to spoil. You can also send them a naughty photo to encourage them even more to come to you but beware, your texts and photos must respect the Terms and Conditions of the site."
Sex.Cam strongly encourages all its performers to make use of the new Messages to My Fans feature, reasoning that staying in contact with customers keeps them loyal and encourages them to remain engaged with the site. Fans who haven't used the platform are also more likely to start doing so again, if they see a message waiting for them from a performer on their favorites list, or from whom they've bought a private show in the past.
If you're a model or performer not already using the Sex.Cam platform, you can register here. For more information on promoting Sex.Cam as an affiliate, visit XloveCash.com.