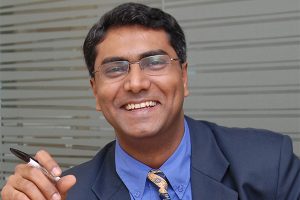 That's Personal is one of the friendliest spaces you'll ever visit on the porno internet.
ThatsPersonal.com is an e-tail site specializing in sex toys for consumers in India. They write: "[A] few years back, no one knew or talked about sex toys in India… However, with the advent of the internet, things have pedaled on surrounding this taboo… Sex toys in India cater to the adventurous Indians who want to transform their mundane bedroom routines into fun, interesting experiences etched in eternity."
"…fun, interesting experiences etched in eternity"?! Coming from the "land where Kamasutra originated," that's a pretty damn erotic and titillating statement.
That's Personal is more about friendly openness than sexy shock and erotic awe though. The cute, clever wink embedded in their logo — That's ;Personal — gives Amazon's A-to-Z smile a run for its money, and their site is packed with educational information, including tons of research about sex and consumer behavior in India — but to what end?
We spoke to Samir Saraiya, CEO of That's Personal, to get some more information about the state of online sales in India and the spaces for consumer opportunity.
YNOT: That's Personal is the longest established and largest destination for sexual wellness products in India, correct? 
Samir Saraiya: Yes, we launched in January 2013 and were the first website dedicated to sexual wellness products in India. We have a wide range of products ranging from apparel for men and women, soft products like delay gels, lubricants and arousal oils, as well as romantic products like edible body paints and adult games to sex toys like massagers and pleasure rings.
We constantly add new products to our portfolio, provided there is a demand for those in India and the products can be legally imported and sold.
Compared to some other retailers in the space, That's Personal seems to offer a much wider variety of products, with a greater number of product options as well. Is that impression correct? 
We work with over sixty international brands with over half of them as our exclusive partners. We strive to offer our customers a good range of products that are legal for sale in India. We try to limit the number of brands per category so that our suppliers get good volumes and market share. We have recently beefed up our merchandising team and are looking for unique and differentiated products to add to our product mix.
After reading through some of the educational content on the That's Personal website, it seems to me that a key issue shaping your business is discretion versus legality, as many people outside India may think – Is that true?
This is a nascent category in India, and most consumers are buying for the first time. They want to learn the products and categories. Content and product marketing play a vital role for consumer decision-making. Customers are interested to know, that the products we sell are genuine, hygienically packed, custom cleared and legal for sale in India. Additionally, they get more confidence when they see our unique features like discreet purchase and delivery as well as customer self-pick up.
We face many challenges in India as we are the first company to launch this business and are doing everything for the first time. There are difficulties relating to the interpretation of law. This category requires a lot of patience, perseverance, explanation and documentation to legally import these products for sale in India.
We also need to educate consumers about this category, and that requires investment. In India, we have more than a billion mobile subscribers compared to just 100 million broadband subscribers — hence it's always a challenge to build our experience to operate on a mobile screen, which may not necessarily be a smart phone.
What do you feel is the most significant fact others in the adult industry need to know about the sexual wellness market in India?
India has over 1.3 billion citizens, which is larger than the combined population of the U.S., Canada, Europe, Australia and New Zealand, and approximately 65 percent of the Indian population under 35 years old.
The numbers are staggering, and our research tells us that five to ten percent of the global searches for erotic products originate from India. There are no standalone physical shops that sell this category, and the market is dominated by e-commerce players. They market is growing rapidly at triple digit growth rates, and The Economic Times, India's largest business newspaper, predicts that the Indian pleasure products market to grow to a $1.60 billion market in 2020.