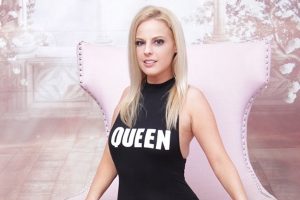 Tampa, FL — Roxie Rae is roaring into 2020 with a new selection of featured clips. This week features clips for each of Rae's flagship sites: Karate Domination, Best Wedgies, Roxie Rae Fetish and The Foot Fantasy. In this new selection of content, Rae has brought back some fan favorites including Courtney Cummz, Cleo, Macy Cartel, Dacey Harlot, Sydney Paige and Jasper Reed.
Opening this week's new clips is Cummz for Karate Domination. Don't let the fact that she's only a white belt, as she can take you down with her strong and lovely hands. Cummz will stop nothing to dominate you, whether it be with karate chops or choking. If you need even more domination, Cleo has it for you in her Best Wedgies clip. Cleo's barely-there white panties already have you hot and bothered, and her JOI directions will keep you on the edge of explosion.
The new balloon blowing clip on Roxie Rae Fetish is just want you need. Cartel blows up balloon after balloon until she is surrounded by them on her bed. But she doesn't want to pop them — she just wants to rub them all over her sexy body.
The Foot Fantasy sees two featured clips this week, with one solo and one GG clip. First, Paige's cool down after her aerobics class is a surprise to Harlot, who didn't expect her to start worshiping her sweaty, pantyhose encased feet. In a solo scene, Reed keeps her feet up on the table, while she ignores pleas for attention.
Last week saw the release of Rae's very first filmed hand job. While originally available only OnlyFans, Rae has now made the clip available on her Clips4Sale page. This is a milestone for Rae and should not be missed by her loyal fans.
Follow Rae on Twitter and her brand new Instagram account.