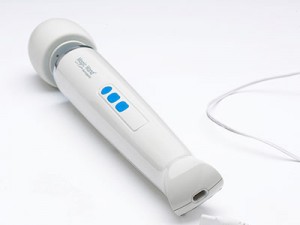 Today's Product: Magic Wand Rechargeable
Specs:
Price: $124.99 USD
Manufacturer: Vibratex, formerly by Hitachi
Type: Clitoral massager/vibrator
Features: High power, multi-speed, multi-function, rechargeable
Materials: Plastic with silicone head
Perfect For: Lovers of the Magic Wand Original or women who need a powerful vibrator to achieve orgasm.
My review today of the Magic Wand Rechargeable is brought to you by MaxiWand.com a Vibratex Authorized Retailer.
I am a HUGE fan of the Original Hitachi Magic Wand, now renamed the Magic Wand Original. It is (was) the most powerful vibrator on the market, fairly inexpensive compared to other quality vibrators, and was the most reliable vibrator for giving a girl orgasms on demand.
But, it also had lots of drawbacks. It was heavy, it plugged in, and only had 2 speeds: Low and Super- powered. No-one ever used the low setting, because if you did, you'd have to switch to OFF first, and then go to high, which is an orgasm killer.
So, the savvy peeps at Vibratex listened and came out with the new Magic Wand Rechargeable which fixes many of the issues the "Original" had, and has also made it super-duper-fucking-powered.
Let's compare, shall we?
Hitachi Magic Wand Original (or Magic Wand)
Magic Wand Rechargeable
·      Plastic body with Elastomer head

·      Length: 13.87 Inches

·      Powered by: Cord; A/C 110 Volt

·      Power: 2 Speeds (Low- 5000rpms ; High- 6000rpms)

·      Buttons: 1 Button (Low/Off/High; No Vibrating Functions)

·      Overheats: Tends to overheat after 20 minutes

·      Price: $69.99

·      Plastic body with Silicone Head

·      Length: 13.00 Inches

·      Powered by: Cordless; A/C Rechargeable Adapter (Can be used with/without cord plugged in)

·      Power: 4 Speeds (1- 2,700rpms; 2- 3,800rpms; 3- 5,400rpms; 4- 6,300rpms)

·      Buttons: 3 Buttons (1- On/Off; 2- Speeds; 3- 4 Vibrating Functions)

·      Overheat Turn-off: Shuts off at 20 minutes to prevent overheating

·      Price: $124.99
Corded or Cordless?
Okay, so the Magic Wand Rechargeable is super-fucking-fantastic and has better features than the Original. Not having to worry about plugging it in during use is a big plus, because I hate using extension cords, they just kill my mood. I like to be able to reach into my bedside drawer, pull out my favorite vibe and masturbate to bliss. Easily done with the Rechargeable.
Duration and Recharging
The only thing you have to worry about is it running out of power, which hasn't happened to me yet, and I've had it for two weeks. It says it will last for about 3 hours if you ran it on full charge for that length of time. So far, I've used it 5 times for less than 5 minutes each. So, I don't have to worry about recharging it for about 19 more solo sessions. Even then, if it started to die I could plug it in and use it with the charger. Incidentally, it takes 3 hours to fully charge as well.
Power and Extra Speeds
The first two speeds on the Rechargeable are lower than the Original, which gives you a place to warm up if so desired, and is more adaptable for women who found the Original too powerful. Now that there is no "OFF" setting in the middle to the vibrations speeds, I do like to start on the lower speeds and then amp it up. The 3rd speed is powerful enough to give you orgasms quickly. The 4th speed will knock your socks off. Seriously, 2-3 minute orgasms lickity split.
The new Rechargeable feels much more rumbly than the Original, which has a higher whirring sound. I don't know why, maybe it is just in my head but the rumbly feels better.
The Rechargeable also has 4 different vibrating functions or patterns, plus the main steady vibration speed. These include slow and quick pulses, oscillations and low/high waves of vibrations. Personally, I'm not a fan of pulsating patterns in vibes (I find steady is the best way to win the race). But, I didn't actually mind these settings and may try them by themselves.
The 3 separate buttons make the toy much more user-friendly and are easy to navigate, even in the dark. And, if you press a pattern button by mistake, no worries, press the on/off button and the vibe goes back to steady vibration in a snap.
New Silicone Head
The new silicone head is awesome (I love the smell of silicone) and silicone is also the only soft type of sex toy material that is completely body friendly. It is smooth, soft, and feels GRRREAT!
DRAWBACKS
Weight
The Rechargeable is still a heavy toy, especially if you are holding it up to 20 minutes. But, I dare you to last that long on the highest setting. Still, even 5 minutes, and your wrist is going to feel the strain. A wand holder would come in handy to fix this, like the Liberator Pillow called the Axis Hitachi that allows you to position the wand, hands-free.
Is This the Toy for Me?
I think any woman who swears by the Magic Wand Original would LOVE the upgrades of the new Rechargeable. Yes, it is almost twice the price, but when compared to some higher priced luxury vibes, the Rechargeable blows them all away. Personally, I would never go back to the Original unless my new Rechargeable bit the dust.
And, for women who have a hard time achieving orgasms, the Magic Wand Rechargeable (and Original) is still the best vibe that will get you there. Trusted for over 30 years for giving women amazing orgasms! Just sayin! 😉
You can purchase the Magic Wand Rechargeable today at MaxiWand.com an authorized retailer of the genuine Magic Wand from Vibratex Inc. PSST: Use coupon code SAVE5 for $5 off + FREE LUBE!