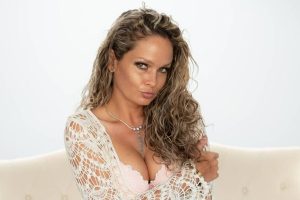 VALENCIA, Calif. – All-girl adult film star Prinzzess is being honored in celebration of ten years under contract with #1 leading lesbian film company Girlfriends Films in the form of a new release from the girl/girl adult studio entitled Prinzzess: A Decade of Desire. The movie directed by B. Skow features the exclusively all-girl performer in four new scenes opposite Abigail Mac, Carter Cruise, Jessa Rhodes, and Zoey Monroe.
Comprised of a whopping 5+ hours of footage, the commemorative 2-disc DVD set also contains exclusive bonus material including Prinzzess' first anal scene [with India Summer] and a candid 20-minute conversation between Summer and Prinzzess, and Girlfriends Films founder Dan O'Connell, who share tales of favorite shoots, traveling, and their personal history both on and off-camera.
Prinzzess and India Summer introduce a series of throwback clips, beginning with their first scene in Lesbian Legal Part One. "We had amazing chemistry," recalls Prinzzess. "It was the best sex I've had on camera ever." India Summer adds, "I had a lot of fun during that scene and I was really looking forward to doing it again."
O'Connell recalls his first encounter with the all-girl contract star. "I remember hearing about Prinzzess a little over 10 years ago," the director recalls, "and I kept hearing there is this girl that I HAVE to meet." He didn't give much credence to the advice at first, but they eventually arranged a shoot together and O'Connell describes their first meeting, "I can remember her opening the door and going, "Oh, my God, she IS uber cute."
Taken with her beauty and on-camera talent, the studio gave Prinzzess an exclusive contract after only a handful of scenes. "You impressed us early," O'Connell says. And it was a move that paid off big time.
The contracted starlet went on to shoot a total of 269 film titles (to date) and has garnered numerous industry nominations and awards including Girl/Girl Performer of the Year, Best All-Girl Sex Scene and Best Feature Dancer. She currently holds the record for longest girl/girl contract, more DVD covers than any all-girl performer in history, and greatest number of scenes with Girlfriends Films, making Prinzzess the highest grossing all-girl performer of all time.
Moose, President of Girlfriends Films weighs in on the milestone film commemorating a decade with Prinzzess, "We wanted to do something really special for the Prinzzess anniversary showcase, and having Skow shoot her with the amazing cast was just the beginning. Then, bringing in the personal element of Dan and India reminiscing was the perfect touch to give fans an insight on what it's like behind the scenes and the special bond that all of us share."
According to O'Connell, "I don't have kids and she has become somewhat like a daughter to me."
Moose says, "We talk a lot about our Girlfriends family, and it holds true. Prinzzess is truly one of the best at what she does, and she is one of the nicest people I know."
O'Connell admits to typecasting the actress in roles opposite her true personality. "I've sort of given [Prinzzess] the stereotypical character, sort of the bad girl." He explains it's due to the appeal of how she dominates in a scene. "It's like when an eagle comes down and gets a squirrel or something, it comes down and gets on top of it. [Prinzzess] holds that girl down, she's got the eyes for that girl. She's just like a predator."
"I used to [receive] the seduction," Prinzzess adds, "but it's fun to play it both ways." On her decade-long contract, the starlet notes, "It doesn't seem like 10 years. I think the scenes keep me young," she giggles.
"It's been a great ten years," O'Connell says, "and I hope we do a lot [more]."
Prinzzess: A Decade of Desire is currently available for DVD pre-order on the Girlfriends Films website and will be available in stores nationwide beginning September 21.