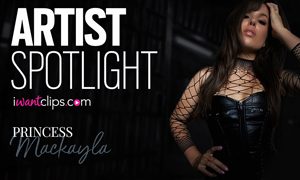 LOS ANGELES, CA – iWantClips popular fetish artist Princess Mackayla reveals her affection for cheetos, bowling and more in this week's Artist Spotlight from iWantBlog.com.
"Princess Mackayla talks about her unusual introduction to femdom and spills other fantastic secrets in a revealing new interview on Artist Spotlight," said James Power, vice president of operations of iWantEmpire, which operates iWantBlog, iWantClips, iWantCustomClips, iWantPhone and iWantFanClub. "Fans will be drawn to Mackayla's candidness and down-to-earth personality. This is a light and fun interview that tells us so much about the rising princess."
Artist Spotlight is iWantBlog's weekly feature, giving fans an inside look at popular trending artists through an interview-style feature that delves into their life and work. The section is promoted extensively on social media as well as on iWantEmpire's other websites.
The striking dominatrix is among iWantClips' newest stars with very popular clips that demonstrate her desire to both control and be spoiled, in true princess fashion. To visit her iWantClips store, click here.
"I was first introduced to FemDom by My (at the time) boyfriend's parents." she said during the interview. "I spent a ton of time with them and they eventually approached Me about femdom and clip making because they thought I would be perfect for it. They filmed My first clips and taught Me everything else that goes into it."
Even with her love for the world of fetish, Princess Mackayla revealed a secret passion: "It's usually pretty surprising to a lot of people that I've been on several bowling leagues. I had My own ball, wrist brace, shoes and all. Ha ha."
But her love of shopping is perhaps her real Kryptonite: "My favorite recent purchase under $100 would be My new favorite perfume. It's Secret Genius by Pinrose," she recalled. "The smell just makes Me feel warm and happy. Or this shiny pink skirt I got from ASOS. I would wear it every day if I could."
To read the full interview click here or visit iWantBlog.com.
iWantClips offers fans a truly elite experience, featuring a vast variety of talented artists who share their unique style and art to a worldwide audience.
For more information, visit iWantClips.
About iWantClips:
Welcome Founded on a deep respect for artists, sex-positive forward-thinking attitude, and love for state-of-the-art technology, iWantClips, and iWantCustomClips, are the world's leading fetish, custom, porn star clip, and chat sites. The innovative network partners with all of its artists, offering the highest payouts, vanity URLs, and other exclusive marketing tools. Its proprietary software employs visual icons which boast easy search and navigation features along with a platform for direct interaction and communication with the site's bevy of artists.