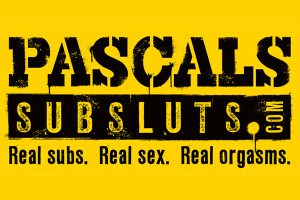 ATASCADERO, Calif. – Reasoning that if "card and candy companies can make a killing off this over-hyped holiday, why not you?", PascalsSubSluts.com has announced a Valentine's Day promotion with discounted memberships for consumers – and a generous payout for affiliates.
For a limited time, PSS membership is discounted to $14.95/month lifetime, with affiliates earning $25 PPS for each signup referred.
"PascalsSubSluts did not become the conversions powerhouse it is by peddling sensitive erotica," ARL Cash, the affiliate program behind PSS, said in a press release announcing the holiday promo. "PSS is the ultimate rough-sex porn site, all about riding them hard and sending them off marked and wet. It's the perfect content for the romantically disengaged, seeking refuge from the Valentine's festivities."
The special Valentine's Day offer of $14.95 memberships and $25 PPS lasts from February 14-16, 2020.
"ARL Cash has a wealth of custom promotional materials for this special," the affiliate program added in its release. "We've also released a new batch of galleries just in time."
Founded by industry veterans, ARL Cash is an affiliate program built on niche content and maximized payouts. ARL Cash has a wealth of sites and promotional materials that are proven to convert. Sites managed by ARL include:
http://pascalssubsluts.com – Rough sex, Dom/sub hardcore
http://laceystarr.com – Extreme granny porn
http://lukehardyxxx.com – Fit ladies' man gonzo
http://edpowers.com – Dirty old man, porn auditions
http://3AM.xxx – Cheating sluts and anal whores
http://sexymomma.com – All-female taboo role play
http://latexpussycats.com – All-female BDSM latex and rubber sex
http://brucesevenfilms.com – '80s vintage BDSM by legend Bruce Seven
For more information and promotional materials to take advantage of the PSS Valentine's Day special, go to ARLCash.com.