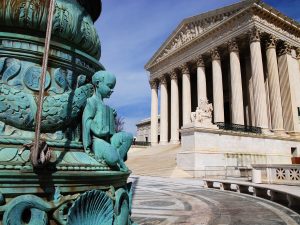 WASHINGTON – I'm not a lawyer – not even of the armchair/internet sort – so I can't explain why the so-called "secondary effects" doctrine sucks from a legal perspective.
I am, however, a longtime serial customer of business like adult shops and strip clubs which are subject to this buzzkill of a legal standard. As such, I feel firmly qualified to explain why it sucks from a layman's point of view.
If you read what the egghead who wrote the article linked above says about the secondary effects doctrine, you'll see stuff like: "The secondary effects doctrine allows government officials to treat patently content-based laws as content-neutral."
My layman's interpretation of that is: "This bullshit 'principle' lets the government ruin our fun in ways it otherwise wouldn't be permitted to do."
"The animating logic is that government officials are not suppressing speech because of its content but because of adverse side effects associated with the speech, such as increased crime or decreased property values," the egghead's explanation continues.
This is a fancy way of saying the government can tell strip joints where they can and can't do business, because it's somehow the strip joint's fault that crackheads occasionally break into cars parked near the club.
Anyway, the reason I'm thinking about secondary effects today is just the other day the U.S. Supreme Court declined to hear a case out of Georgia which involved the doctrine.
In the case, a city in Georgia called Sandy Springs had its zoning ordinances challenged by two strip clubs and an adult bookstore. Without getting too deep into the boring stuff only lawyers like to talk about, basically what happened was when Sandy Springs incorporated in 2005, it established some new ordinances to which those business hadn't been subject prior to Sandy Spring's incorporation.
Fast forward to 2016, when a federal judge ruled the city had "reasonably relied on judicial opinions, land use and crime impact reports, and witness observations to meet its burden of supporting its rationale that the ordinances may reduce the costs of secondary effects."
To me, the key word in that jumble of judicial word-salad is "may."
If you go back to the article from the egghead from FIRE wrote, it quotes a couple other eggheads in observing the secondary effects doctrine is "susceptible to manipulation."
"The doctrine has proven to be fertile ground for abuse, empowering government officials to act on their thinly disguised dislike for adult entertainment that otherwise would be entitled to First Amendment protection," continues Professor Whatshisface. He goes on to note the doctrine "has spread from the regulation of adult businesses to all varieties of speech. For example, it has been used to uphold a student dress code, regulation of signs in historic districts, and restrictions on solicitation."
In other words, when the government wants to prevent a business from establishing in any given area, or keep a student from wearing a 'disruptive" t-shirt, or wants to restrict whatever the fuck other disfavored speech it can possibly justify squelching, it reaches for the secondary effects doctrine.
The best part? The government doesn't even have to prove the business (or person) it seeks to regulate does produce the secondary effects in question, just that it in similar situations elsewhere, some court or another has decided that kind of business or speech could cause those effects – and, evidently, that the government's ordinances "may" reduce the costs of those effects.
To put that in egghead-ese: "The First Amendment does not require a city, before enacting such an ordinance, to conduct new studies or produce evidence independent of that already generated by other cities, so long as whatever evidence the city relies upon is reasonably believed to be relevant to the problem that the city addresses."
If that sounds like bullshit to you, that's because it is bullshit. And so long as this doctrine stands, it's bullshit adult businesses and their customers are going to be subjected to, again and again, throughout the country.
See? I told you it sucks.