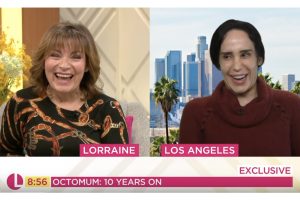 The Toronto Sun's headline teased "Octomom regrets sexxx-rated career in porn."
Writer Brad Hunter baited me. I clicked. What in the hell could Nadya "Octomom" Suleman possibly be up to now?
The "story" itself clocked in at a mere 208 words. It's based on quotes pulled from Suleman's January appearance on London-based television network ITV's morning program "Lorraine." Host Lorraine Kelly conducted a ten-years-after interview with Suleman, who now uses the first name Natalie. The mother of 14 total children gave birth to her octuplets in 2009 — thus, ten years after infamy, it would seem.
Hunter wrote:
Notorious Octomom Nadya Suleman now says she deeply regrets her brief foray into the porn world.

She told ITV that she only entered the sexxx-rated industry to provide for her 14 children.

By the time she gave birth to octuplets in 2009, via IVF, she already had six children and was a single mother struggling to cope with mounting bills.

"I think I was young, dumb, irresponsible, selfish [and] reckless," she told ITV.

"You've got to do what you've got to do to provide for your family."

Suleman added that while pursuing a career in porn and stripping, she developed a drug problem. She appeared in the 2012 fleshfest Octomom: Home Alone and Adult Insider 5.

But she found the work dehumanizing and began "numbing" the pain with Xanax after being publicly pummeled for her choices.

She told The New York Times she hit rock bottom when she discovered one of her kids playing dress-up with her sky-high stripper heels.

"I would take whatever I could back in the days," she told the Times. "I was spiralling down a dark hole. There were no healthy opportunities for Octomom."

The octuplets are now 10 years old, but at the time of their birth, her pregnancy was deeply controversial and her doctor lost his licence.
That's the entire story — but it sucked me in, resulting in the triple-layer clickbait you're currently reading.
There are a lot of things about this story that don't matter, like facts.
For instance, Suleman only starred in one adult film, Wicked Pictures' wildly off-brand solo feature Octomom: Home Alone (2012). "Adult Insider" was a 30-minute monthly news and entertainment video magazine hosted by performer Chanel Preston — a great idea that didn't take off. Also, not a porno.
Inaccuracies aside, being featured in two adult titles does not make a "sexxx-rated" career. So what else was there? Quick perusal of Wikipedia — the most reliable of sources, I know — shows that most of Suleman's "career" as an adult entertainer occurred in and around 2012.
Suleman starred in the low-budget horror film 666: The Devil's Child. She did an interview for the British tabloid Closer and posed for several pictures that accompanied the piece. The pictures feature her with various combinations of her many children, but in one she was — gasp! — only wearing lingerie and coat. She supposedly began working as an entertainer in "men's clubs," though no dates or appearance locations are listed. She released a single called "Sexy Party" with Adam Barta, a reality star that seems to capitalize on featuring other reality stars in his work. "Sexy Party" featured "controversial" artwork — Barta holding Suleman's breasts while being surrounded by crucifixes on a bed — which I guess makes it noteworthy?
Here's the thing… There are many aspects of Suleman's story that could be painted as tragic, exploitative or even inspirational. But none of that relates to a "career" in any aspect of adult entertainment. Mainstream global media, as well as Suleman herself, need to keep going back to that narrative though, as it makes fools continue to click.
Me included.
Screengrab of Suleman's appearance on "Lorraine" via YNOT.